Sana Safinaz Progress with Pakistani Fashion
In addition to their designer clothing line, Sana Safinaz, the iconic Pakistani fashion label has now introduced acoustics sessions under the name of its brand. With this, they have entered into a domain which apparently contradicts their forte, but for them, it is completely the same thing. All those who religiously follow the Facebook page of Sana Safinaz may have come across a combination of cover photos and albums of their new venture which runs by the named Sana Safinaz Acoustics. The question is if they are trying to introduce an entirely different domain in Pakistani fashion for marketing and advertising purposes or is it merely a Coke Studio 'rip off'? Let's find out…
Commenting on this 'one of a kind' Pakistani Fashion initiative: 'Sana Sanfinaz Acoustics, the Deputy Marketing Manager, Anum Altaf said: "Sana Safinaz is not just about clothes, it represents a whole lifestyle and SS Acoustics is an extension of the brand,"
She further added: "Music and fashion always go hand in hand. Hence, we decided to fuse the two genres together in order to promote young female artists in our country. We have started off with our own brand ambassador Zoe Viccaji who is also a great singer but we will be featuring other aspiring artists as well."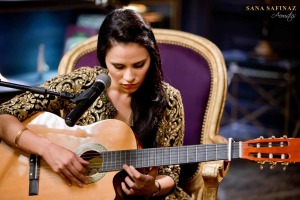 Although, this is the first time that such a venture has been introduced in Pakistani Fashion, but internationally, it no more a big thing. There are many global fashion labels who have already taken such an initiative in the past. Hedi Slimane of Saint Laurent Paris took on board Daft Punk to develop their own version of David "Junior" Kimbrough's composition for his maiden collection. After that, in design house's editorial, the notorious helmet-boys were featured. Kanye West and APC (a French Brand) also collaborated with each other to produce an exclusive collection.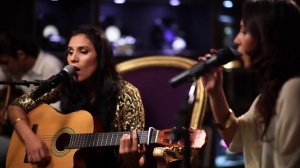 On the contrary, it has been rarely witnessed that a venture that sees fashion transitions into music. Sana Safinaz Acoustics is one such platform in the Pakistani fashion industry that promises to train and encourage upcoming talent in music free of charge. This unique venture in Pakistani Fashion has completed its first season which featured Zoe Viccaji (who is also the brand ambassador for Sana Safinaz). The very first song of season 1 'Raat Gaye' (sung by Zoe Viccaji along with her sister Rachael at Sana Safinaz Home Interior Studios) can be seen on various social media platforms as it has already been uploaded. The response to the song until now has been phenomenal. The season ended with a high note as Zoe Viccaji beautifully covered Junoon's legendary song 'Need Aati Nahin'.
Bearing in mind that Sana Safinaz staunch fans might find it really difficult to associate or relate themselves with this new Pakistani Fashion venture, they might also find it very peculiar. One cannot predict the future of Sana Safinaz acoustics at this stage, but it appears to be a very innovative initiative with a good intention of promoting young female talent.