In our society, people with physical disabilities often face various problems. This is not only due to their particular impairments but also due to various social factors such as attitudes, stigma, and physical obstructions.
What we often fail to realize is that such individuals are not disabled but "differently-abled". They may have other talents and skills that can help them in making a living. A handicapped gardener named Safdar has certainly proven that.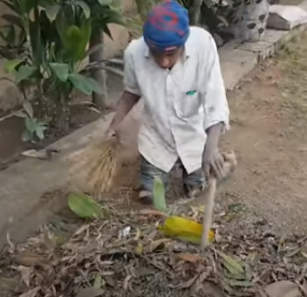 Safdar, 21, works with a lot of determination and sincerity despite his disability. He hails from the Punjab region of Pakistan. He was only 10 years old when he lost his ability to walk due to fever.
In an interview to Urdu point, Safdar said he has a supporting family who does not want him to work so hard. However, he works not for monetary reasons but to fulfill his passion for gardening. Safdar has five siblings – two brothers and three sisters.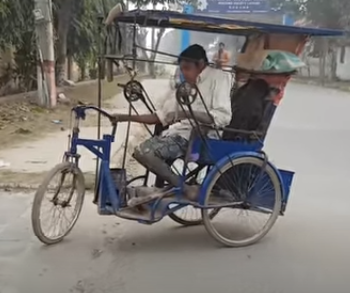 The 21-year-old uses a special cycle to travel. The wheels of this cycle are pushed by hand paddles. Safdar works at four different houses and earns around Rs 4500 per month.
The inspirational youngster also gave a special message to all handicapped people. He said that they should not select begging as their profession and must earn an honest living.
Disability is not a hurdle for pursuing your passion
It is certainly inspiring to see people like Safdar striving hard to make an honorable living. Despite the challenging conditions, Safdar is undoubtedly a ray of hope who has set the bar high for living a challenging life with such honor and dignity.
Apart from Safdar, there are many other young Pakistanis that are suffering from various physical disabilities. However, they are still successfully pursuing their passion and making their country proud.
One of those highly inspirational individuals is a physically disabled teacher Gulzar Hussain. The 29-year-old lad lost both his legs and an arm in a bomb last in 1999.
Losing an arm and both legs at a very young age did not make him give up. The brave guy completed his education even after the tragic incident. Not only that but he also decided to educate the children of his locality.
Another of those inspirational individuals is Sirine Jahangir. She is a blind Pakistani girl who recently became Britain's singing sensation. Meanwhile, Muhammad Malak is another visually impaired Pukhtoon who is reaching new heights with his courage.
What do you think of this story? Let us know in the comments section below!