Sadiq Khan as Mayor of London, it's a fact that is romanticized by millions of Pakistanis, perhaps more than Londoners. And why not? This is exactly where our desi parents wish us to see (pun intended) – a successful brown person having an eccentric British accent who the whole world talks about… Without a doubt, Pakistanis have attributed a celebrity status to the likes of Sadiq Khan.
Yesterday, the London Mayor arrived in this part of the world as a goodwill gesture to promote UK's "London Is Open" campaign. Having spent some quality time in India, he entered Lahore via the historic route of Wagah Border. Sadiq Khan was well received by the Lahori fraternity. He marks his visit as a milestone as he becomes the first Mayor of London in history to visit Pakistan.
From the beauty of India to the vibrancy of Pakistan – today I crossed the border on foot – becoming the first British politician to make this journey in recent history. – Sadiq Khan
CM Shahbaz Sharif and the rest of notable people welcomed him on his major visit. About that, we have a lot to talk about… While the administration of Lahore made sure Sadiq Khan has a good time and reflect on this visit in a positive token, there's one detail that we rather might never forget.
Have a look, have a look!
Geddit?

Let that sink in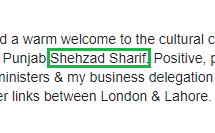 ….

There are fails, there are bad fails and then, there are epic fails.

Main nahi maanta, main nahi jaanta…
Not sure if CM Shehzad – I mean, Shehbaz Sharif has noticed that yet. But let it go, it's all taken on a light, humorous note.
After Lahore, Sadiq Khan is set to visit Karachi today…
He would arrive on Thursday evening and is going to be really busy with certain good activities. To mark this moment special, an exhibition match is arranged in his honor at British Consulate. Pakistan team captain Sarfraz Ahmed is set to play in the exhibition match.
We, wholeheartedly welcome Mayor of London to Pakistan. Hope he has had a great time so far. We are looking forward to how his historical visit settles in the political prospect. What do you guys think?