A sadhvi (god-woman) by the name of Devika Thakur is on the run after her celebratory shots at a wedding killed the groom's aunt.
She was invited to a wedding on Tuesday in Haryana when, according to the witnesses present there, she decided to take her revolver and her double barrel gun to the dance floor and asked the DJ to play the song of her choosing.
Once the song started, she started dancing uncontrollably and shot a few rounds in the air. The groom, allegedly, tried to stop her but she did not pay any heed. The shooting stopped only when the aunt of the groom fell to the ground after being hit by a stray bullet.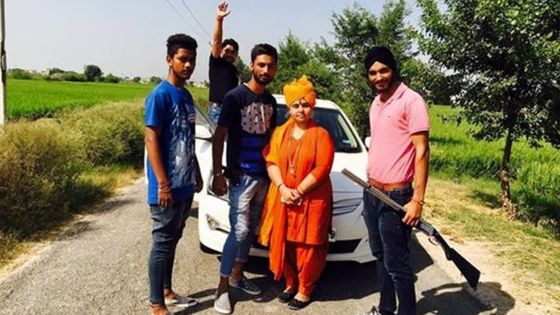 But this isn't the first time she has been on the news!
She once said that the Muslims and Christian population should be reduced by sterilizing the population!
Previously, she made controversy by saying that the growing population of Muslims and Christians must be controlled by passing a law that forces them to be sterilized. If the proper steps are not taken to control Muslims and Christians from reproducing and the Indian women are not encouraged to produce more children, Hindus will become a minority in their own country.
She wanted the statue of Mahatma Gandhi's assassin to be put up in Haryana
People have claimed that her suggestion of putting Nathuram Godse's statue in Haryana stems from her desire to attain media attention all the time. She has proven to be controversial on purpose just so she can cash in on some airtime through this.
She wants to place the idols of Hindu gods in Mosques and Churches
And now this controversial and self-professed god-woman is on the run from the charges of murder. Why is it that all these Indian religious scholars speak such controversial things and desire media attention all the time?
She definitely isn't the first sadhu to seek publicity.