Disclaimer*: The articles shared under 'Your Voice' section are sent to us by contributors and we neither confirm nor deny the authenticity of any facts stated below. Parhlo will not be liable for any false, inaccurate, inappropriate or incomplete information presented on the website. Read our disclaimer.
Landing an interview that too in a big company is difficult most of the times and we're not even talking about securing a job. But this guy took a different track.
Meet Sadat from Lahore – a self-taught social media specialist and motion graphic designer – who sent his resume directly to the CEO and executives of the top ad agencies resulting in a job at his favorite place.
"It's hard to get your resume in front of the right people without connections so in order to bypass this I made a self-promoting ad and used Facebook micro-targeting feature which is hidden in the Facebook ads manager tool to showcase my work and resume to specific people which helped me secure a job at one of the top ad agencies in the world" – he told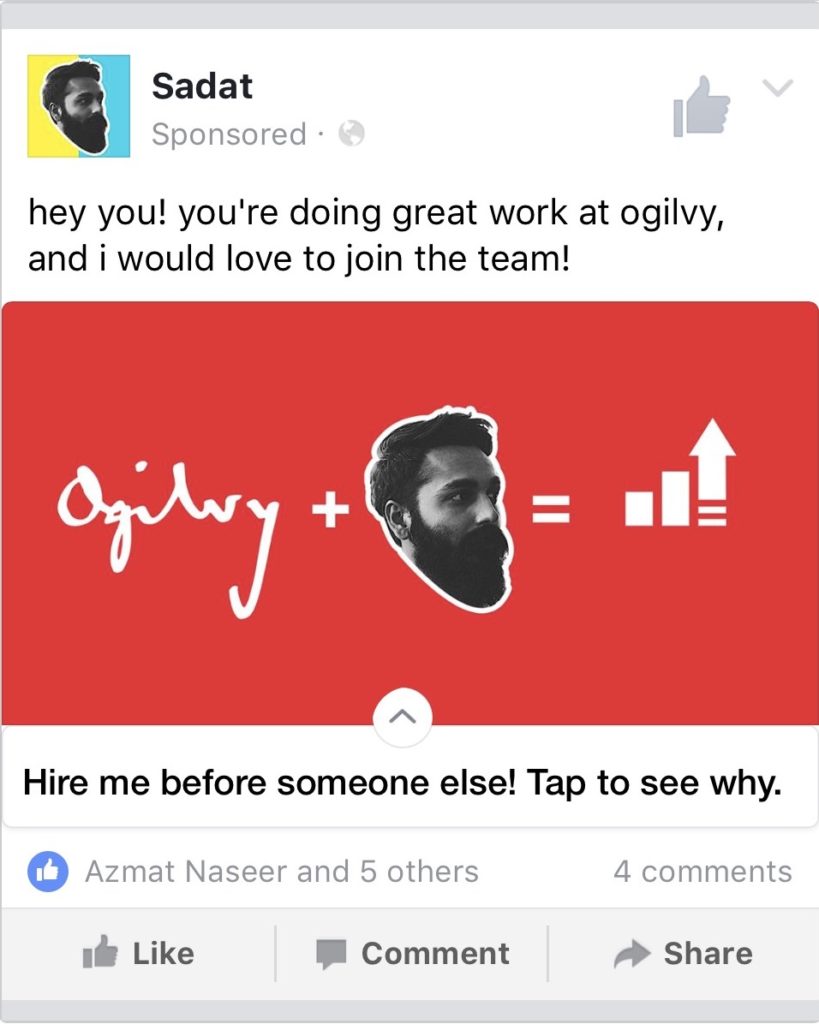 First, he made a stunning full-screen ad called canvas on Facebook which can only be seen on a smartphone, in the ad he explained why he is essential for the company, along with his portfolio. Click this link on a smartphone to see the canvas.
Then comes the fun part! When we think of an ad, we generally think of reaching thousands of people every day, but in this case, he used a reverse technique called micro-targeting – in which your ad only delivers to a specific group of people – so he targeted specific people and showed them specific ads that were meant only for them.
According to his blog post "how I landed my favorite job" the results were amazing, he got interview calls from the top companies which he targeted, and successfully secured a job at Ogilvy & Mather Pakistan.
Read Also: Automotive Industry In Pakistan Witnesses Decline In Sales Around 40 To 60 Percent And Expecting 150,000 Job Cuts