Sadaf Kanwal the glamorous model turned actress is the new heartthrob of many Pakistanis. Her journey in the industry is a long and arduous one, but she managed to rise and shine, solely because of her raw talent and stylish personality. She has won many best model awards along the way!
She entered the film industry in 2017, she debuted as a happy go lucky girl in Balu Mahi. Next, Sadaf Kanwal did a sizzling item number in Na Maloom Afrad 2. Though she is a talented model acting is where she thinks she belongs, the acting and modeling talent runs in her family, As her paternal aunt, Nida Mumtaz too was a model in the 90s. And she keeps on appearing on our screen in many acting roles.
Sadaf Kanwal is a model and yes she lives the glamorous life, which she is not scared to share with the world. Every time she's on vacation and post pictures of her having a good time. The "gairat brigade" gets back on the hate mission.
https://www.instagram.com/p/Bz_B1DbA-Gl/?utm_source=ig_web_copy_link
One look at the clicks and you know she's serious about fashion. She stuns with her wardrobe choices. Simple yet catchy. Her fashion choices combined with her hourglass figure gives her the absolute Diva charm.
Read Also: The Truth Behind Sadaf Kanwal's Picture With Her Supposed Bae That Went Viral
The hottie is looking gorgeous in the pretty black dress and on-point makeup, In another picture that she shared on her Instagram, She's wearing an embellished blue short dress that's super cute.
https://www.instagram.com/p/B0JPYDGgy1n/?utm_source=ig_web_copy_link
Wow, there were many comments on the amazing picture and the backdrop. Her fans showered her with love and encouragement. One went on to say that sweety you are looking beautiful, but please turn off comments for these posts. And she is right judging from the other comments on the photograph.
And this!
https://www.instagram.com/p/B0LPmrCA36A/
Somebody mentioned her gorgeous dress is too short for the Islamic Republic of Pakistan and feared hate-mongering: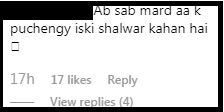 Yup, the audience was fixated on the trousers:


Like, Seriously:

Some were just disgusting:

They were quick to shame her, but won't unfollow her to stop witnessing this besharmi:

What even?

They even justify all the judgment: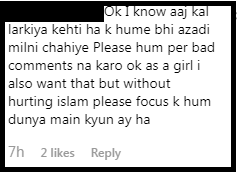 So, what do you think? Is it alright to leave judgmental and condescending comments on some one's public profile?
What do you think of this hate brigade? Why don't they just live and let live?