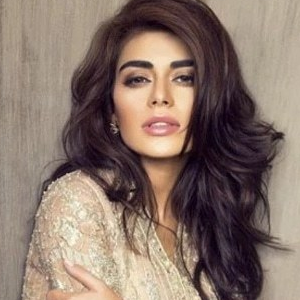 Sadaf Kanwal biography
Sadaf Kanwal is one of the most widely recognized actresses of Pakistan. She has won the hearts of people with her energetic personality.
Sadaf is also considered to be one of the most stylish Pakistani models. She has bagged various awards till now. She is also one of those controversial media personalities who often get trolled for different reasons. Even then, her confidence and grace has been unmatched.
Early life and education
Sadaf Kanwal was born on 29th August 1993 in Karachi, Pakistan. She was born to a highly privileged family. Her mother was a famous Pakistani film actress, director and producer. Salma Mumtaz's brother Parvaiz Nasir was a renowned Film director. Sadaf is also a niece of Nida Mumtaz. Nida is regarded as one of the most decent actresses of Pakistan.
Sadaf is married to Shehroz Sabzwari. They married on 31st May 2020 when Shehroz divorced his former Syra Yousuf. They married each other by having a simple Nikkah ceremony. Both got trolled for their marriage on social media.
Showbiz career
As a model
Sadaf started her showbiz career with modeling. Soon after that, she started ruling the TV industry with her confidence and grace. As an actress, Sadaf has worked with several designers and brands. She has received massive acclaim in all these years. She was also honored with several best model awards in various award functions. Sadaf is a model who not only made her name as an actress but also illustrated her acting talent by appearing in several movies and dramas throughout her career.
As an actress
Sadaf is one of those actresses who came into acting after she became a successful model. Sadaf started her acting career with the film 'Balu Mahi' in 2017 along with Osman Khalid butt and Ainy Jaffery in the main leads. She got a highly positive response from the box office after starring in those films. Later, Sadaf was seen in a new project on TV titled 'Alif'. The show starred other highly talented Pakistani artists that included Sajal Ali, Hamza Ali Abbasi, Ahsan Khan, and Kubra Khan.'
Other than being an actress and a Model, Sadaf has also been a highly successful and talented dancer. Sadaf has been performing in several item numbers too. Sadaf got praise for her performance in the item song 'Kaif-o-Suroor' from the movie Na Maloom Afraad 2 (starring Urwa Hocane, Fahad Mustafa, Hania Amir, and Mohsin Abbas). However, there were some critics that trolled her for wearing bold attire.
Filmography
List of films
Balu Mahi
Na Maloom Afraad 2
Dramas
Alif
Apni Apni Love Story
Controversy
Sadaf Kanwal and her husband Shehroz Sabzwari have come under nationwide criticism for their marriage. Shehroz and Syra Yousuf parted ways earlier this year. Then Shehroz's second marriage with model Sadaf Kanwal raised many questions on him. People have been calling him a cheater, disloyal, and whatnot. Similarly, his new wife Sadaf is also facing severe backlash for allegedly ruining Syra's married life.
Shehroz also made a clarification through a video message that she didn't cheat on Syra. He added he never wanted to divorce Syra but circumstances made it impossible for them to continue together. He also stated that the reason for his divorce with Syra was never Sadaf but some very 'personal' reason.
He said the people who were accusing him of infidelity should come and prove it. Shehroz in his very aggressive tone also challenged people to not accuse him of something he didn't do. However, his statement didn't hold back his haters from constant abuse.
After facing criticism from social media users for marrying, the newlyweds recently worked together on a festive Eid telefilm called Ghar Ke Na Ghat Ke. The short film supposed to be a light-hearted comedy, completely backfired!
While the couple wished to soften up people towards them, their attempt at fixing their image only blew up in their faces. In addition to this, the audience did not only pan the telefilm but also trolled both of them. Sadaf and Shahroz got criticism for their over-the-top acting and mediocre performances.
Ever since the photos of their nikkah ceremony surfaced on the Internet, the newlywed couple became a hot topic on social media. People took it to Twitter, expressing their strong disapproval.
It was evident the problem is not that Shehroz and Sadaf got married. The problem is they misled their fans in the first place which is why the public continues to stay angry with them and does not like them at all.
Most of the people continue to hold the grudge and are not over how Shahroz left Syra for Kanwal. Many continue to refer to Kanwal as the 'homewrecker' and whatnot. She has been a target of incessant trolling for a while now.
In October 2020, the renowned model uploaded pictures on her Instagram stories with red and grey hair. And people could not keep their cool and started to bash her. In one picture she was spotted with blonde hair and in another one, she had red hair.
Unfortunately for Sadaf, she was bashed for her looks by some viewers on social media.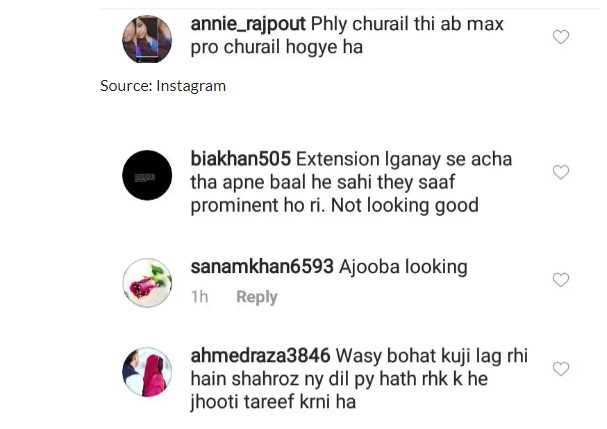 It is evident that she does have to face some criticism. However, the fact can't be denied that she is a successful actress.