At least 19 people have been killed in a wave of Russian missile attack on cities across Ukraine, including Kyiv.
Seventeen people, including a toddler, were killed in an attack on a block of flats in Uman's center city, according to officials.
According to the mayor of Dnipro, a woman, and her three-year-old daughter were murdered.
The Russian defense ministry stated that the strikes were directed at Ukrainian army reserve forces.
According to the state-owned RIA news agency, Russia was aiming at reserve units and utilized high-precision munitions on Friday.
Russian Missile Attack On Ukraine
A nine-story apartment building partially fell after being hit by a missile in Uman, a town that had been largely spared Russian bombing.
Oleksander, a 35-year-old inhabitant of the Uman block struck, said he was awakened by a tremendous explosion.
"I couldn't figure out what was going on. When I got to the balcony, there was glass everywhere. "It was terrifying," he told the BBC.
"Russia is a terrorist country." As you can see, no military object is present. And it happened at four o'clock in the morning, while everyone was sleeping."
Vanda, a 60-year-old resident, said she heard an explosion and "everything shook."
"We looked for ways to get out of the building." I heard the screaming of a youngster in the flat next to ours. We wanted to help others. "There was a lot of smoke and fire," she stated.
"Peaceful people were just sleeping."
Rescuers were still working at the scene more than ten hours after the incident, while residents attempted to salvage some of their things. Some residents in nearby buildings were already repairing broken windows.
The apartment block was one of ten residential buildings damaged in Uman, according to Ukrainian President Volodymyr Zelensky.
According to the state rescue agency, the youngster who died in the city was born in 2013, and another 11 people required hospitalization.
Mr. Zelensky stated that the strikes demonstrated that more international action against Russia was required.
"Weapons can stop evil; our defenders are doing so." And sanctions can stop it – global sanctions must be strengthened," he said in a tweet.
According to the commander of Kyiv's military administration, it was the first Russian rocket attack on the capital in 51 days.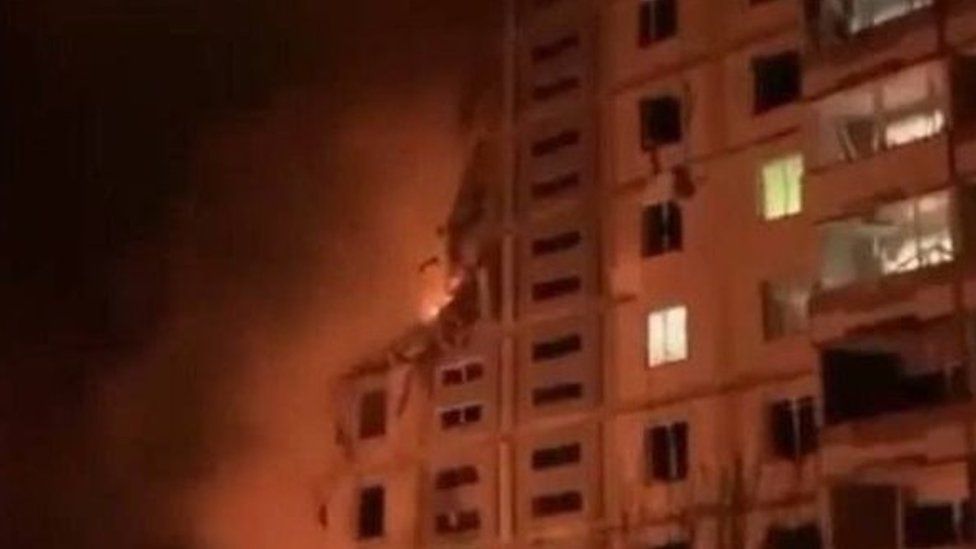 There have been no reports of civilian casualties in the capital as of yet.
Ukraine's air defense system fired down 21 of 23 missiles and two attack drones, officials said in a message on the messaging app Telegram.
The Russian-installed mayor of Donetsk reported seven people were killed when Ukrainian artillery munitions hit a minibus in the separatist-run city. BBC News was unable to confirm the claim immediately.
The attacks came as Ukrainian forces believe they are ready to begin a military onslaught with new equipment delivered by Western partners, including tanks.
"As soon as there is God's will, the weather, and a decision by commanders, we will do it," Ukrainian Defense Minister Oleksii Reznikov said in an online press briefing on Friday.
Russia has struggled to make progress in a winter offensive that includes a 10-month battle for control of Bakhmut, a strategically vital city.
According to the state-owned RIA news agency, the Russian defense ministry announced on Friday that its military had targeted Ukrainian army reserve formations with long-range strikes using high-precision weapons.
Although Moscow has previously stated that it does not intentionally target civilians, thousands of people have been injured and killed across Ukraine since Russia's invasion.
See More: Russian Missile Attacks Hit Ukraine On New Year's Eve
What do you think of the story? Tell us in the comments section below.