Ronaldinho, indeed, is one of the most coveted names in football. If you come to think of the best players to have graced the beautiful game, you just cannot forget Brazilian legend and former FC Barcelona man, Ronaldinho Gaucho. Talk about players who have won everything there is to win, performed in every tier of competition and simply boggle minds with their eccentric skills, Ronaldinho certainly finishes a race apart. You cannot hate him, even if you are a rival fan.
If football holds a strong stature on a global prospect, it is due to the likes of players like Ronaldinho who have gifted so much to the game. They have entertained and enthralled as far wide every corner of the world. Whether it be international competitions like the FIFA World Cup or European competitions, Ronaldinho has outshined in all terms!
Every aspiring footballer's dream is to be like Ronaldinho. Not that he could ever be replaced but whoever is fond of the game and wishes to compete on a professional level has tried to learn and maneuver his skills. Ronaldinho is now coming to Pakistan, which is the best news a football fan in Pakistan could ever have!
Yesterday, Ronaldinho acknowledged the love & support for kids from Lyari who can't wait to see him!
Thing is, he can perfectly empathize what it feels like to be these children who aspire to be professional footballers. He also came from a humble background in Brazil. Back in his country and during his childhood, he did not have the right means to compete on a professional level. He worked hard, earned his name and made all his chances count.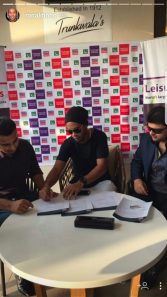 Ronaldinho is the best ambassador of football in the world. He is promoting the beautiful game in his name. He has inspired millions and will now enthrall the people of Pakistan, especially the potential footballers in Lyari who would be motivated enough to seek opportunities for themselves.
Ronaldinho coming to Pakistan is an advancing step for football in the country. The Brazilian legend's arrival in Pakistan this summer is all in for the best interest of people who love football and want to pursue it on a professional level. As for now, we cannot wait to see him here. Pakistanis are already dying to see a glimpse of him once he arrives in July. As for now, the excitement prevails!