2022 isn't peaceful for any girl out there. Every day some girl is being killed and no one justice for them. It's been hard for girls to stand for themselves, she can't even raise her voice for her right to say whether she wants to marry that guy or not.
Because if she says no, then she's in big trouble and might be chances she gets killed. That's what exactly happened in Sukkur where Hindu girl Pooja Kumari 18-year-old brutally murdered for refusing a marriage proposal.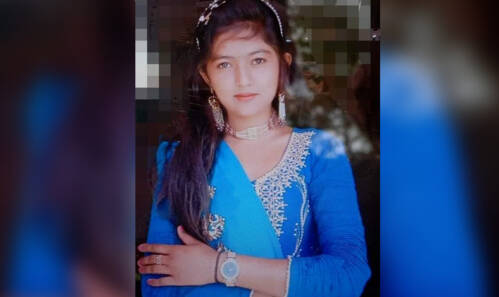 After this big incident, many of the celebrities jumped in to condemn the whole situation. Former Coke Studio producer Rohail Hyatt and Ushna Shah jumped in to raise their voice.
According to Rohail Hyatt called out the "pathetic" justice system for failing to protect Pooja.
Rohail Hyatt and Ushan Shah raises voice for poor Pooja Kumari
Poor Pooja Kumari was targeted near the Chhuahra Mandi area, Wahid was the one who wanted to marry her. But after the refusal, he took her life.
Station House Officer Bashir Jagirani told the media that "the assailant, later identified as Wahid Bux Lashari and two of his aides, barged into Pooja's house and opened fire on her."
Music composer Rohail didn't wait and shared his views. Rohail tweeted, "So unfortunate. Rest in peace, beautiful Pooja."
The music composer continued, "Our criminal justice system is so pathetic that evil people just don't fear any consequences of their actions. It's our courts, and our judiciary who are responsible for such lawlessness," ending his tweet with a hashtag that read, "Justice for Pooja Kumari."
On the other hand, Ushan Shah also came in to take a strong step towards a more harmonious society. She wrote, "Want to end intolerance?
Start at home: Share a meal with someone belonging to a religious minority. Use dishes from the same set. Do this in front of your children."
She added further, "Just don't scream like a mad banshee that 'minorities are safe here. Me raising awareness on the matter doesn't project a bad image of Pakistan. Lynching, kidnapping of minorities, and draconian accusations targeting them do."
This isn't new for anyone, because it has been going on in Pakistan and no one raises any voice. There are various scenarios where a girl is murdered because of refusing to marry that particular guy. The same sort of incident took place in 2017, where the girl was murdered in front of her parents after she refused to marry wadera.
What do you think of the story? Tell us in the comments section below.