A man in the Bahadurabad area of Karachi made the mistake of posting an ad online for selling his phone. To his misfortune, instead of attracting serious buyers, he ended up being robbed of his phones worth Rs400,000 by people masquerading as customers, CCTV footage revealed Friday.

Over the past few months, a number of cases of mobile snatching and robbery have occurred. Law and order are still not satisfactory in Karachi.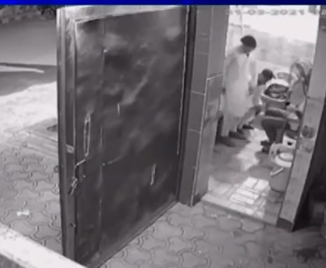 In the CCTV footage of the incident that came to the limelight on Friday, the faces of the suspects who went to his house to rob him of his phones could be clearly seen. In addition to this, the footage also shows that the event took place at around 8:45 pm.
A scene that plays out on the streets of Pakistan almost on daily basis, only this time there was an unusual twist. A man had posted an ad online for selling his mobile phones. But instead of serious buyers, robbers came to his place, attacked him, and stole his gadgets.

Here is the CCTV footage
Despite the CCTV footage going viral on social and mainstream media, no suspect has been arrested as yet.
It is pertinent to mention here that criminal activities, robbery, in particular, have risen to record levels in the city ever since the COVID-19 pandemic took over. Every now and then, videos of robbers looting some innocent citizens in broad daylight.
This increase in street crime and robberies is due to the incompetence and failure of the government, police, and law enforcement agencies. The current situation should be taken seriously and the government should provide protection to the people of Karachi. Not only that but it should also take practical steps against the elements involved in crime.
Earlier, a suspected robber in looting a citizen near Power House Chowrangi of Surjani Town was caught and tortured by local residents, whereas, his accomplice managed to flee from the scene. The Karachiites thrashed the criminal whose attempt to snatch the bike and mobile failed.
Another CCTV footage emerged last month showing a robber mugging a shopkeeper in Karachi. However, it was not the kind of robbery that you get to hear of. In fact, seeing how 'politely' the robber mugged him will leave you rather baffled, and amazed at the same time.
What do you think of this story? Let us know in the comments section below.