We always read about stories how Muslims, most of the times Pakistanis, settled abroad are helping their own community and residents by making restaurants and serving them with honor and dignity. The internet is filled with such stories and most of the times, they go viral as well. Hearing and reading such stories is an inspiration for many; people leave their countries but never forget serving their own people.
On the other hand, there are some locals who become heroes in hours of need. They may not have the leisure of the world, but they do have a heart that serves the people, especially there own. We are talking about none other than an infamous restaurant of Baser called Moon Restaurant.
You may have read on the news on how landslide has taken over the North of Pakistan. It is not only dangerous but also risky for those who are planning to travel there for now. However, there were many who were already en-route when the climate changes started showing its wrath. According to one of the travels who experienced this first-hand, Batakundi and Jalkat roads were blocked due to landslide. Because of this, those who were en-route were asked to remain outside the areas for their safety.
Read Also: A Family Drowned During Their Trip To Neelum River And How It Happened Is Really Tragic
In the Hour of Need, the Management of Moon Restaurant Did Not Give Up On the Locals
Narrated by one of the travelers, here's what happened:
I, along with my family, was among the 2000+ people stranded between Baser and Naran due to flash flood/ landslides day before yesterday. We were stranded for good 18 hours before the landsliding was cleared.
Around 4pm, on 25th July, while driving from Babusar towards Batakundi we got the news, from drivers coming back, that the road is blocked. We turned around and decided to have lunch at Moon Restaurant, Baser, waiting for the roads to reopen. At that point rumour was that there was only one landslide and FWO is working to clear it. Soon enough, we were joined with more and more people as it became clear that it's impossible to drive ahead.
Moon restaurant isn't a hotel but a restaurant at Baser. Their sitting arrangements include charpaye /manji on which we tried to rest while waiting. Soon the news came that there is landslide at least at 5 places ( which later turned out to be 9-10, causing 4 casualties) and won't be cleared before the next day. There were at least 500 people stranded at the restaurant and now the panic started kicking in. Many were with small kids and most without any arrangement to save themselves from falling temperature. That's where the real tale of genorousity starts. People offered help to women with small children, aged, and families to take space inside the shed ( covered from two sides) while they sat in freezing temperatures outside the shed. Quilts, blanket, and warm clothes were shared around. But that's expected isn't it ? Most people traveling on roads try to help each other. What I did not expect was the restaurant's owner, manager and staff to be this helpful. They did not charge an extra penny for people occupying the charpayes. There were 5 washrooms with queaues of people during these 18 hours. They continuously clearned the washrooms and made sure the water was available. Unlike another restaurants (as reported by BBC) they did not charge anything for usage of toilets or charpayes. They continuously made announcements to offer assurance and comfort by keeping everyone posted.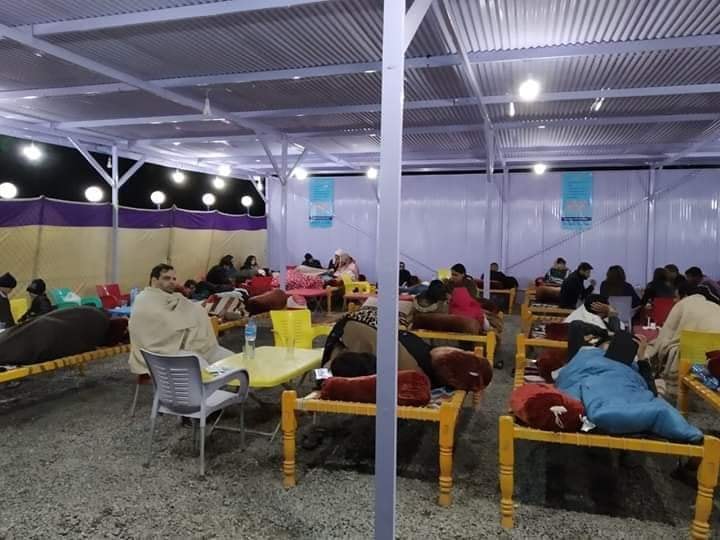 At 12am the restaurant gave everyone ( that's 500+ people I am talking about) free steaming hot halwa to battle with dropping temperature. Around 2am free tea was served. The manager went around asking everyone if they have been served well. As we spent the night on the restaurant's charpayes shivering of cold, the warmth of the restaurant's staff kept it going.
This post is a thank you note to the owner, staff, and manager of Moon restaurant for their generosity, selfless acts, and professionalism. The roads finally opened at 2pm next day. Now, sitting in the comfort of my home, after a 13 hours terrible drive, I am still struggling to sit straight and I can't imagine how the staff kept it going all night and the next day without a second of shut eye and without loosing their temper even once.
If you happen to visit Naran or Babusar then I do suggest you drop by Moon restaurant. Their food is excellent, thier staff is helpful , and they are as generous as one can get.
This, indeed, sets an example for everyone, especially as locals on how we need to be there for each other. Don't forget to visit Moon Restaurant whenever you are in a nearby area.