There has been a reported suicide bombing in Islamabad's I-10/4 neighborhood. Initial reports of the incident state that a car was stopped on suspicion by Islamabad Capital Territory (ICT) Police when the explosion took place.
According to media sources, the suspicious car taxi allegedly sped off while being checked. While four police officers and two civilians are reportedly hurt, one ICT Police officer, Head Constable Adeel Hussain, has chosen martyrdom. The injured have been taken urgently to PIMS for additional medical care.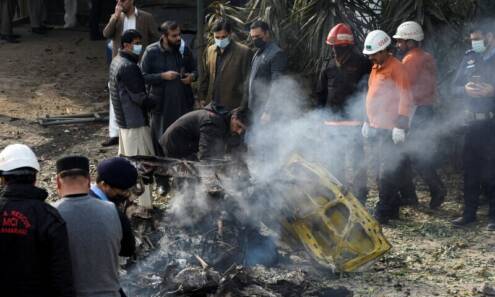 An investigation into the terrorist incident is in progress, and the crime scene has been blocked off by ICT Police contingents. ICT Police has increased security in the federal capital in the meanwhile. Similar to how ICT Police did, Rawalpindi Police has also done the same, strengthening the security of the twin city.
ICT Police has confirmed in an official statement that normal snap-checking was taking place as part of strict security measures in the federal capital when police officers gave a vehicle the order to stop. When the authorities came to check the suspicious vehicle, the driver of the vehicle blew himself up.
Eagle Squad halted a cab for inspection, according to Deputy Inspector General (DIG) of ICT Police Sohail Zafar Chattha in a media interview. A woman was in the passenger seat and a male was operating the explosive-filled vehicle. After being told to halt, the driver got out of the vehicle. As soon as he noticed police officers approaching the car, he turned around and set the car on fire.
The suicide bomber appeared to have intended to detonate the car in a sensitive location, hence the DIG praised the Eagle Squad for preventing his evil objectives. The DIG claimed that by giving his life, the martyred policeman prevented a more tragic incident from happening in the country's capital.