It was electrifying. It was crowded. It was magical. It was lit.
The biggest, the most historic soundclash that took place in Karachi literally brought every music lover together. It was like a massive reunion where everyone came together just to enjoy some epic music by none other than the two legends of our Pakistani music industry, Ali Azmat and Strings! It was indeed a night to remember!
What made it all better was the thousands of people present at the Karachi Gymkhana to rock the night away! From children to adults, almost every age group was seen having a blast. And when we say blast, we actually mean it. The cheers, the chants, the roars … WOW! And that was the moment when the crowd actually forgot about the Pop vs Rock debate! Because, gosh! Ali Azmat and Strings literally stole our breaths away!
See the epic crowd? Do you see it??
It's amazing to see the rebirth of live music and we truly missed it! Apart from sightseeing places, restaurants, cafes and food festival,  it seems like Pakistanis will be enjoying live music with enthusiasm, more often now. At the Red Bull Music SoundClash, the energy could be seen everywhere! The beats drove everyone crazy and everyone was having the time of their lives!
That jazba, that excitement!!!
And since this was the biggest and once in a lifetime experience, there were many who couldn't make it to the event and those who did, couldn't stop making their friends jealous! Haha! Have a look!

Indeed!

Hayee…

Some were shattered…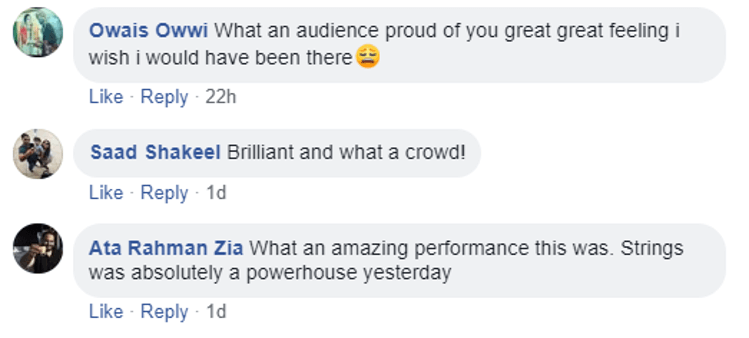 And you know what was the highlight of the night?? The crowd united as one voice and sang 'Bichra Yaar'along with Bilal Maqsood!
Warning: You'll get goosebumps!
This legit won everyone's heart!! OMG!!
And to appreciate and thank the crowd for making it happen, Strings even made a cute little video thanking the amazing people present there!
So cute!!! We love them!! This video truly shows how they enjoyed the crowd!
If it wasn't for Red Bull, this wouldn't have been possible. But in the end, what actually counts is how smooth everything went and how much the crowd enjoyed the show! And well, last but not least, Karachiites reunited in an open field along with some amazing performances by our legends! As we mentioned above, the crowd didn't care about Pop vs Rock, because at the end, Music won!
We can't wait for more amazing live music scenes in Pakistan!!!
Let us know what you think about think? Do you think should have more of such soundclashes and concerts? Let us know in the comments below!