Macaroni is one of the famous Italian food as it is the type of pasta that is shaped like narrow tubes. The word macaroni has been derived of the twisted Italian-sounding term maccheroni. For everyone, the craving for macaroni is different, as it has many recipes and can be made in many ways according to our choice and taste.

We all are aware that Ramzan is coming and the best part of it is the iftar time, so when a person waits the whole day to have something to eat, at that time, he wishes to have something unique and delicious.
Here we are presenting some delicious recipes of macaroni that will work for you as a magic food in your iftar this Ramadan Mubarak 2022 and will bring joy and happiness to the whole family.
Masala Macaroni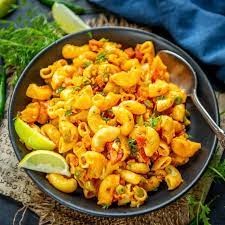 This masala macaroni is one of the recipes of macaroni that will meet your desi style and is the wow recipe for the spice lover. It is cooked with different spices along with tomato puree and onion and comes out as one of the best meals for anyone. What you will need to do is mention below.
Ingredients:

Macaroni-150 gram
2 medium-size tomatoes (chopped)
1 medium-size onion (chopped)
1 small capsicum (chopped)
1-2 Tbsp. Oil
½ cup green coriander (chopped)
1-2 green chili (chopped)
¾ tsp turmeric powder
¾ tsp Red chili powder
3 tsp salt or as per taste
1 tsp coriander powder
¼ tsp Garam masala
½ tsp Cumin seed
1 tsp ginger garlic paste
Direction:

Firstly, boil water in a large pan
Then add 1 tsp oil and 1.5 tsp salt mix well; now add macaroni in it.
Cover it and boil for 4 to 5 minutes on low medium flame; stir it occasionally
After 5 minutes check whether the macaroni boils or not.
If now Macaroni is well-boiled, turn off the flame, filter out the water
And in case the macaroni becomes over-boiled, then wash them with cold water.
Along with it take a saucepan. Put some oil in it and let it heat
Then add cumin seed and roast for a while
Now add onion and fry for ½ minute on a medium flame.
Once the onion starts changing color, add ginger garlic paste, and green chili in it; fry them for a few seconds
Add turmeric powder, coriander powder, red chili powder, chopped tomatoes, and salt.
Now fry them all for 1 minute on medium flame.
As you see all are mixed well, now add chopped capsicum and fry it again for ½ minute.
Once you are done with the masala preparation, add the boiled macaroni in it and mix well
Cook it for 1 to 2 minutes on low medium flame
Lastly, just add garam masala and green coriander then again mix it well.
Ready to serve
Chicken Cheesy Macaroni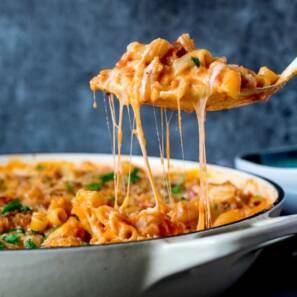 Here the cheesy chicken macaroni is one of the recipes of macaroni that will surprise the cheese lover with a pleasant taste that will come out by combining the chicken, macaroni, and cheese together with spices in it. If you are a cheese lover, must try it, it will surely fall into your best cheesy meal recipes.
Here you go with the ingredients and recipe

Ingredients:
1 cup macaroni (boiled)
1-½ cup milk
2 – 3 tbsp maida flour
3 tbsp cheddar cheese
1 chicken breast boneless (cubes shape)
2 tbsp butter
1 tsp red crushed chili
1-1/2 tbsp cream
1-1/2 tsp garlic (crushed)
Pinch of oregano
½ tsp garlic powder
1tbsp BBQ sauce
Oil as per required
Salt and pepper according to taste

Topping

Mozzarella cheese for topping
Sliced olives for topping
Jalapeno for topping
Oregano to sprinkle

Direction:

Start with the preparation of chicken
Add 2tbsp oil to a pan, then add crushed or chopped ginger it's up to you
Fry for some time until it changes color into golden brown
Once it's done then add chicken and while cooking mix it well
As you see the color of the chicken is changing and turning into white color, then add red crushed chilies and BBQ sauce, again mix it well.
Lastly, add salt as per taste and 2 to 3 tbsp water; mix it, and cover it to cook for 2 to 3 minutes more, so the chicken is cooked properly on a medium flame once its done, then keep it aside
Now its time to prepare the sauce
Take a pan to melt butter in it
Once the butter melts completely then add maida flour to it almost 2- 3 tbsp. and add ½ cup milk or according to your taste how much thick you want but keep in mind that as we bake it further so it becomes thick after that too.
Then, after adding the milk add oregano, garlic powder, cheddar cheese, and cream mix it well
Lastly, add salt to taste and black pepper. Now your creamy sauce is ready
Now add macaroni and chicken into the creamy sauce

Now its time to platter it to bake
Take a baking tray
First platter the macaroni
Sprinkle with the grated mozzarella cheese
Then add Olives jalapeno and sprinkle the oregano
Bake it at 190C for 8 to 10 minutes
Your chicken cheesy macaroni is ready
Mac and cheese recipe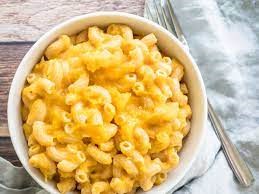 If you are wishing to have loaded cheese macaroni without any veggies and spices then mac and cheese is one of the recipes of macaroni that is the right option for you. This will remove your hunger as it is a heavy meal for any individual to have. To try this delicious recipe. Follow the instruction mentioned below.

Ingredients:
1/3 cup macaroni
¾ cup cheddar cheese shredded
2 tbsp milk
¼ cup water
Direction:

Take the macaroni in a bowl, then add water to it.
Microwave it for about two minutes
Add milk and shredded cheese to it; stir a little.
Again, microwave it for another 1 minute
Your delicious mac and cheese is ready
Bacon and tomato casserole macaroni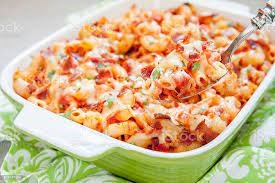 Bacon and tomato casserole macaroni is one of the unique recipes of macaroni that will surely fulfill your craving for the delicious macaroni that you are currently having. It is one of the wow recipes that you can have at Ramzan.

Ingredients:

200 gm macaroni
1 clove garlic chopped
30 gm butter
6 rashers bacon
8 large tomatoes ripe
1 tsp cornflour
Salt and pepper
1 medium onion
Pinch of sugar
50 gm grated cheese
1 bouquet Garni – mixed herbs

Direction:
Boiled the macaroni, then keep it aside; on the other hand, take a pan put the cut tomatoes in it, crushed it with the help of a wooden spoon; add the onion, garlic, and bouquet garni, finely sliced, stew gently until it becomes soft. Stif this puree
Meanwhile, on the other hand, add the cornflour in the melted butter, then mix it well to add it into the puree. Return to the saucepan and stew for 15 minutes
Now Its time to fry the bacon until just crisp
Mix the sauce with the fried bacon and cooked macaroni and place it in a casserole
Sprinkle grated cheese for the topping and bake it in the oven for 5-10 minutes
Simply Baked macaroni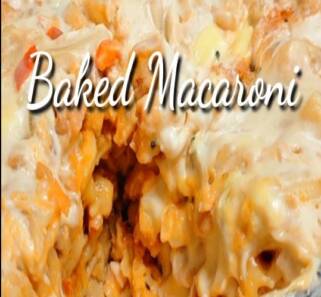 When it's time for iftar, it is always difficult to prepare delicious food in a short time. Then at that point, you will search for a simple and easy recipe that comes out with the best result. At this time this simply baked is one of the recipes of macaroni that will work best for you by giving a delicious taste to your soul in a short time

Oven Temp: 325F-160C
Ingredients:

200 gm cut macaroni-cooked, bite like
2 tsp salt
1 tsp black pepper-freshly powdered
1 cup cheese-grated
A few tomato slices for garnish
For the white sauce:
2 cups milk
2 Tbsp maida
2 Tbsp butter
Direction:

Take a pan add butter, wait until it melts completely, then add maida saute it, then add milk in it and stir it until there are no lumps left ( If still, you find them strain them after cooking)
Then bring it to boil to add salt and pepper and simmer it for a half minute and so
Once it's done take it off the heat, mix it with the macaroni, and transfer it to the baking sheet.
Garnish it with tomato slices, sprinkle the cheese to cover the mixture, and bake it in a preheated oven for half an hour, or until the cheese changes color to slightly brown.
Your simply baked macaroni is ready to eat


Spanish mac and cheese with Chorizo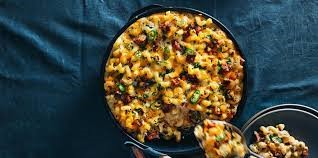 Have you invited someone to iftar and thought to make something unique and delicious than Spanish mac and cheese with Chorizo is the right decision to serve as an iftar meal because it is a unique recipe of macaroni that is not mostly cooked in everyone's home. We are pretty sure that your guests will love this new style macaroni recipe.
Ingredients:

5 cups elbow macaroni
2 tsp olive oil
2 large chorizo sausages, casings removed, crumbled
½ large onion, cut in half lengthwise
1 bay leaf
2 cloves garlic
2 cups milk
3tbsp unsalted butter
3tbsp all-purpose flour
Salt and black pepper, to taste
2 ½ cups grated aged cheddar cheese
1 tsp sweet smoked paprika
2tbsp Dijon mustard
For the topping
2tbsp olive oil
1 cup panko breadcrumbs
¼cup grated Parmesan cheese
2tbsp chopped parsley
1 tsp sweet smoked paprika
Direction:

Heat the oven to 180C. Lightly butter 2 large baking dish
Cook the macaroni in boiling salted water; when it's done, filter out the water
Take a large saucepan, put the oil in it, and heat it. Now put the sausages in it and cook it until it turns out into a light brown color, at least for 5 minutes. Take out in a plate and keep it aside
To make the sauce, cut down the middle of the onion around 1 inch (2.5 cm) deep, and slide a bay leaf into the cut. Stick the garlic cloves in the onion.
Take a saucepan, add milk and onion to combine, and heat them over medium heat. Along with it take another saucepan; melt the butter on low flame, then add the flour in it and cook the roux, stirring for at least 3 minutes. Remove it from heat, pour the milk in it, and again stir it until the milk is completely blended and mixed in it, then stir the mixture into the remaining milk and add simmer and stir it for 15 minutes frequently and season it with salt and pepper.
At this point remove the onions and add the cheese paprika and mustard. Continue cooking over low flame. Stir it until the cheese is melted. Then add the macaroni and sausages, stir together and season it well with salt and pepper. Transfer it into the prepared baking dish.
For the topping, you will need to combine breadcrumbs, parmesan parsley, and paprika. Drizzle with and sprinkle the casserole. Bake it for 25 to 30 minutes or until it turns slightly brown and bubbly.
Take it out of the move. It's ready to serve.
Try them and tell us how you like these recipes of macaroni. Also, don't forget to follow the accurate Ramadan timings for sehar and iftar.
What do you think of this story? Let us know in the comments section below.