Whether you prefer your pizza with meat, vegetables, or cheese, this selection of top-rated recipe for pizza will help you find a new favorite.
We have gathered up a list of pizza recipes below for you to try out this Ramadan Mubarak.
1. Chicken fajita pizza recipe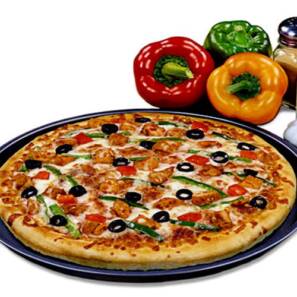 All of the flavors of a chicken fajita on a pizza were created using slow-cooked chicken for a quick and delectable dinner this Ramzan Mubarak. Definitely worth a shot
Course: Comfort food, Pizza
Cuisine: Fast food
Serving: 4
Prep time: 30 minutes + Cook time 25 minutes= Total time 55 minutes
Ingredients
300 gm boneless chicken cubed
2 tbsp chili sauce
1 tsp black pepper
1/2 tsp salt
1 tbsp vinegar
1 tbsp soy sauce
1 tsp garlic paste
For Pizza Topping:
1 cup pizza sauce
10 black olives
1 cup mozzarella cheese
1/2 tsp oregano
1 cup mushrooms
1 tomato thinly sliced
1 capsicum thinly sliced
For Pizza Dough:
1-1/2 cup plain flour
1 tsp yeast dissolved in lukewarm warm water with 1 tbsp. sugar.
1/2 tsp salt
1 egg
2 tbsp oil
Method of Preparation
Combine the chicken, chili sauce, black pepper, soy sauce, salt, vinegar, and garlic in a large mixing bowl.
To coat evenly, mix everything.
Refrigerate for 25 minutes after marinating.
Cook the chicken in a saucepan over medium heat until it is cooked.
Set aside for now.
Combine the flour, salt, egg, and yeast mixture in a separate large mixing bowl.
To knead a dough soft use lukewarm water
Preheat the oven to 180°C.
Place the dough in the oven to rise and double in size.
Place the dough on a baking tray and roll it out.
Apply a small amount of oil to it.
After this use a fork to pierce the dough.
Spread the chili sauce all over the dough.
Chicken cubes, mozzarella cheese, mushrooms, tomato, capsicum, and olives should be layered on top.
Season with oregano.
Bake for 15-20 minutes, or until the crust changes color to a golden brown.
Serving suggestions: serve it with tomato ketchup

2. Hunter beef pizza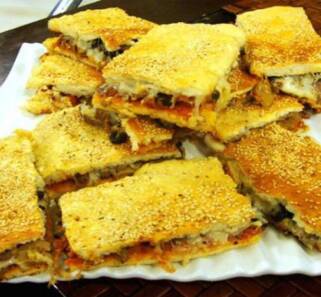 If you're looking for a different kind of pizza, try Hunter Beef Pizza Recipe. This pizza dish is different from others because it uses hunter meat instead of chicken. It's a must-try!
Course: Appetizer, Comfort Food, Main Course
Cuisine: American
Servings: 6
Prepare time 25 minutes +Cook time 30 minutes + Rising time 3hrs = Total time 3hrs 55 minutes
Ingredients

For the Pizza Dough:

700 gm Self-raising flour
2 tbsp Yeast
2 tbsp Sugar
1 tbsp Baking powder
as required Salt

For the Topping

Hunter beef as required
1/2 cup Sliced olives
1 cup Mushroom sliced
1/2 cup Oregano
1/2 cup Sesame seeds
1 Egg
as required Butter

For the Pizza Sauce

1 cup Tomato puree
2-3 Tomatoes
1 Finely chopped onions
1 tbsp garlic paste
1/3 tsp crushed red chilies
1/2 tsp Black pepper
2 tbsp Oil
as required Salt.
Cooking Method

To make the dough, combine the yeast and sugar in a bowl of Luke warm water and set aside for 15 minutes.
Knead the self-rising flour with the yeast, baking powder, and oil to make a smooth dough.
Wait 3–4 hours to pass.
Remove and fold the dough once it has risen.
Spread the dough onto a baking tray that has been greased.
Bake it for 15 minutes in a preheated oven of 150 degrees Celsius Remove the crust and cut it into two halves.

To make the sauce, follow these steps:

In a pan, heat the oil and sauté the chopped onions until they are light brown. Combine the tomato puree and garlic paste in a mixing bowl. Add the crushed red chili, crushed black pepper, and salt and mix well. Fry it till the oil separates from the food. Turn off the flame.
To make the topping for the pizza, melt the butter in a skillet and saute the sliced mushrooms for a minute. On one side of the crust, evenly spread the pizza sauce.
Slices of hunter meat, fried mushrooms, sliced olives, and grated mozzarella cheese go on top.
Top with the oregano and the other half of the crust.
Drizzle olive oil on top of the egg white glaze.
Bake for 15–20 minutes at 200°C in a preheated oven.
Take it out of the oven and cut it into pieces
Hunter Beef Pizza is ready to be served.

ENJOY!

Serving suggestion: Any of your favorite sauces
3. Pizza without oven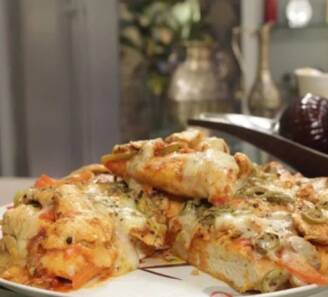 It is now feasible to make a perfect pizza without using an oven. Learn how to prepare an all-in-one Pizza Without Oven through this Recipe, which includes Dough, Pizza Sauce, and Chicken Tikka Topping. Give it a shot.

Ingredients:

To prepare Dough:

½ kg Flour
1 ½ tbsp Yeast
1 tsp Sugar
1 tsp Baking Powder
Salt to taste

To Prepare the Chicken:
500 gm boneless Chicken
1 tbsp Garlic Paste
1 tsp Black Pepper crushed
2 tbsp Lemon Juice
1 tsp red chili powder
2-3 tbsp Oil
Salt to taste

For Topping:

½ cup Pizza Sauce
400 gm Mozzarella Cheese grated
2 Tomato sliced
1 Capsicum Sliced
½ cup Mushroom sliced
½ cup Green Olives sliced
1 tsp Oregano
2 tbsp Butter

Cooking Method:

To make the dough, dissolve the yeast in warm water and stir in the sugar.
Mix gently and set aside for 15 minutes.
Take a large mixing bowl, add flour, salt, and baking powder and combine it well Mix the yeast mixture and knead the dough for 2 hours or until it rises.
With your hand, knead the dough.
It's time to roll out the pizza dough.

To make the chicken, follow these steps:

Crushed black pepper, garlic paste, lemon juice, red chili powder, and salt are used to marinate the chicken.
Cook chicken in a pan with 2-3 tbsp oil over medium heat for 10-15 minutes, or until thoroughly done.
Remove it to a platter and set it aside.

To assemble the pizza, follow these steps:

2 tbsp butter to grease the pan
In a pan, toast the pizza dough on both sides.
Spread the sauce on the dough and top with the chicken mixture, 2 tomatoes, 1 capsicum, and 1/2 cups of mushrooms, and the mozzarella cheese.
Finally, garnish with green olives and oregano.
Maintain a very low flame in the pan.
Heat the other pan, then place it on top of the pizza pan and cover it. Continue to cover the pizza with a heated pan until the cheese has melted.
When the cheese has melted, plate it and cut it into slices.
Pizza without the use of an oven is ready to eat.

4. Pizza pie recipe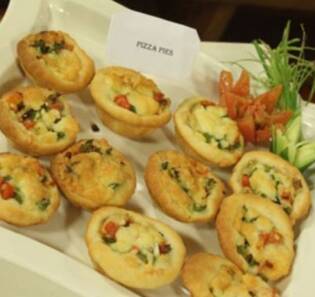 Do you enjoy pizza? Then you'll adore the delectable twist that this Pizza Pies Recipe gives it. It's also simple to create. It's ideal for parties.
Course: Appetizer, Comfort Food
Cuisine: American, Fast Food
Servings: 12
Prepare time 20 minutes + Cook time 15 minutes=Total time 35 minutes

Ingredients:

For Dough:

8-ounce Flour
1 ½ tsp Instant yeast
½ tsp Salt
1 tsp Caster sugar
1 tbsp Milk powder
1 Egg
4 tbsp Oil

For Filling:

250 gm Chicken boil and shredded
2 tbsp chopped capsicum
2 tbsp chopped onion
1 Tomato finely cubed
1 tbsp Flour
1 tbsp Butter
½ cup Cheddar cheese grated
Ketchup as required
¼ cup Milk
½ tsp mustard powder
½ tsp Salt
½ tsp black pepper
Cooking Method:
To make the pizza dough, follow these instructions:
Combine the flour, instant yeast, salt, caster sugar, milk powder, egg, and oil in a mixing bowl.
To knead the dough soft, use the lukewarm water
Let 1 hour for its rise, or until it has doubled in size.
To make the chicken filling:
Take a bowl to add 1 tbsp butter, 1 tbsp flour, 1 tbsp salt, black pepper, and mustard, 1/2 tsp each, 1/4 cup milk, and boiled and shredded chicken in it to combine
Roll out the dough into a large circle to make the pizza pies.
Using a cutter, make little rounds.
Place each round in a tart pan that has been buttered.
Spread ketchup
Place the chicken filling on top, then the capsicum and tomato cubes.
Finally, grated cheese will be sprinkled on top.
Allow it to rise for another 30 minutes before baking at 200 degrees Celsius for 20 minutes
Pizza pies are ready to serve enjoy
Serving suggestion: chili garlic sauce
5. Pizza Sticks Recipe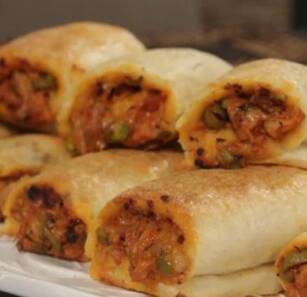 An easy Pizza Sticks Recipe transforms cheese and pizza dough into a delicious snack. These hot and delectable Pizza Sticks include all of your favorite things: mozzarella sticks, stuffed crust pizza, and garlic knots.

Ingredients:

Pizza Dough:

250 gm Flour
a pinch of Salt
1 tsp Sugar
1 tsp Baking Powder
½ tsp Yeast

For Filling:

250 gm Boiled Chicken
1 Capsicum chopped
1 onion slightly fried
1 Egg
½ cup Olives Sliced
200 gm Mozzarella Cheese Grated
1 tbsp Butter
½ tsp Crushed black pepper
½ tsp Oregano
3-4 tbsp Pizza Sauce

Cooking Method

To prepare the dough, put the yeast and sugar in warm water and set it aside for 15 minutes.
In a separate bowl, combine the flour, salt, baking powder, and yeast that has been dissolved.
Knead gently and set aside in a warm place for 3-4 hours.
With the help of your hand, fold it again.
Roll out the dough

To make the filling, follow these steps:

In a separate mixing dish, combine the boiling chicken, capsicum, pizza sauce, mozzarella cheese, fried onion, black pepper, olives, and oregano; mix it well
Fill the pizza dough with the mixture and roll it out.
Brush the edges with the egg. Preheat the oven to 200°C and bake the pizza sticks for 15-20 minutes.
Sprinkle the olives on top once they've been baked.
Brush the egg and butter mixture together.
Continue baking for another 2 minutes, or until golden brown on top.
Take it out of the oven
Pizza Sticks are ready to be served.

ENJOY!! Don't forget to follow the Ramadan timings for your suhoor and iftar.
What do you think of this story? Let us know in the comments section below.