While everyone is shocked at the suicide of one of the people's favorite actor Sushant Singh, they can't help but wonder what went through his mind that pushed him over the edge. As per people's perception, taking his life would be the last thing to expect from an achiever like him. Then what was the reason that had set him off so much?
As many mouths, like many stories, but the real probable reasons that have surfaced from what his friends and family have shared, are as following:
Sushant Had No Real Friends In The Industry
Sapna Bhavnani revealed in her tweet that everyone in the industry knew he was doing through a tough time but nobody bothered to stand up for him and now everyone from Salman Khan to Karan Johar, is tweeting about him.
Only if people realized where Sushant's thoughts were headed and listened to him, maybe he could've been pulled back to life. Unfortunately, people did realize but only after it was too late.
"To tweet today is the biggest display of how shallow the industry really is," says Sapna.
It's no secret Sushant was going through very tough times for the last few years. No one in the industry stood up for him nor did they lend a helping hand. To tweet today is the biggest display of how shallow the industry really is. No one here is your friend. RIP ✨ pic.twitter.com/923qAM5DkD

— 𝕓𝕦𝕞𝕓𝕒𝕚 𝕜𝕚 𝕣𝕒𝕟𝕚 (@sapnabhavnani) June 14, 2020
This does sound familiar, doesn't it? We all know someone who is going through depression but we consistently ignore their cry for help and carry on with our lives. And once their gone, we put up statuses like we did our best to save them.
Felt A Void In His Life Of His Mother
Sushant was not that active on social media but the last Instagram post that Sushant Singh posted was about his mother and the heartfelt caption said it all.
In an interview, Sushant expressed that he missed his mother and he would've been a different person if his mother was alive, "It's not that I miss her only when something good or bad happens to me. I wouldn't lie but I am not incessantly thinking of her, I wish she was alive to see me succeed in life, I am sure she would have been really happy and proud of me. And maybe I would have been a different person than I am now. The way I looked at things then and now, they are very different and I cannot go back to doing that."
He also mentioned that his mother used to pamper him a lot and her love for him was unconditional.
Arjun Kapoor who also suffered the loss of his mother in the same year said that he had seen Sushant grieving for his mother in his success.
Sushant's Manager Committed Suicide Two Days Ago
Just a week prior to Sushant's suicide he had expressed his condolences to the grieving family of his manager Disha. She had also committed suicide by jumping off a building. He termed it as "devastating news" and a week later he decided to take his life too.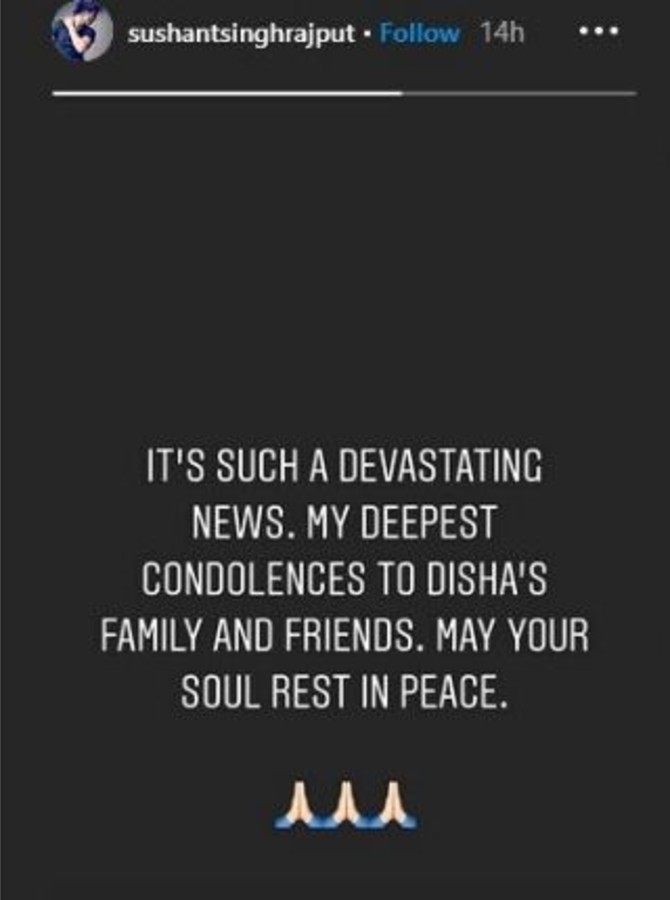 There is no clear evidence yet to link the death of the two but from what's being anticipated his already inclining depression probably hit rock bottom after someone close took her life. Rumors are saying all sorts of things.
Sushant's Ex-Girlfriend Got Engaged
A few days before Sushant committed suicide, his ex-girlfriend Ankita Lokhande who he had dated for almost six years had gotten engaged to Vicky Jain. Both parted ways in 2016 and Ankita had tweeted, "Don't feel alone I m always there in your heart, in your life," after officially confirming the separation.
Considering how close Sushant Singh was to Ankita this could have been the final heartbreak for him. However, this news has shocked Ankita as much as anyone else.
Despite that the family of Sushant Singh is denying the suicide and calling it a murder, the fact that he had been taking medications for depression for the past 6 months verifies that his mental health was not so well.
Have anything to add to the story? Let us know in the comments.