In today's age of technology, everyone needs a smartphone. However, when new models roll out, generically, the old ones start to slow down and bother us.
With the course of times, our favorite phones, which were new once, started acting completely 'thakka hua'. A host of different glitches take over our devices, and inevitably, we have to start looking for new phones.
Here are 8 reasons why you really need to give up on your old 'thaka' hua phone and buy a new one!
1. The battery hardly lets you use your phone
There was a time when the battery health was 100% and you could use your phone all day long. Now, you're scared of using it every now and then because you'll have to charge it all over again!
2. Friends have started making fun of it
Your friends look at your old phone, while they show off their new ones. All those hard-hitting points on your phone have started taking a toll on you. Your "sanghara phone" must go now!
3. Phone shuts off with battery time still remaining
Your phone is now giving up its ghost. With almost 25-30% battery still remaining, it just turns off! You get a text or a call and it's dead. Bohot hogaya bhai ab!
4. Starts lagging and hanging
The most famous sign of an old 'thaka hua' phone, your phone is glitching back and forth, it hangs and lags and you've had absolutely enough!
5. You cannot 'trending' games on your phone
Games such as PUBG, Fortnite, Call of Duty and other new 'trending' ones are a myth to you. Your phone just doesn't support the features these games need.
6. Your phone doesn't catch Wi-Fi or cellular signals anymore
It connects and disconnects. You see it or you don't. Yeh phone hai ya Sherlock Holmes, right? Time to change your phone and get rid off these worries for good.
7. The speakers are hardly audible now
Kya waqt thay woh when you listened to songs on your phone's speaker. Now you can hardly hear a call coming. Akhri kab tak bardaasht keroge?
8. Your downloads automatically stop!
Whenever you're downloading something, everything's going smooth, and boom! It stops at 99%. That pain, that sorrow, that anger… take it out by buying a new phone.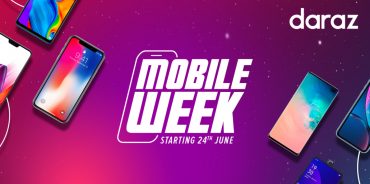 The time is here, the time is now! If you've been looking for that perfect discount deal to get rid of your 'thaka hua' old phone, now is when you log on to Daraz.com and avail these amazing offers which start form 24th June and are on till 30th June!