Youth's favorite smartphone brand realme recently launched the realme 6 series in Pakistan. "Redefining product series". The specifications of the realme 6 are a big upgrade over its predecessor.
Well, we have finished the realme 6 review, and the spoiler alert is that it is a first-rate smartphone offering more value than you expect for under 40k which is class-leading! realme has done a fantastic job to bring it in at this price.
Realme 6 specifications:
6.5-inch FHD+ 90Hz punch-hole screen | MediaTek Helio G90T processor | 64MP+8MP+2MP+2MP quad-rear camera setup | 16MP front camera | 4300mAh battery | 30W fast charging | Android 10
The realme 6 sports a beautiful design that will want you to take it out of your pocket just to look at it. The comet design on the glass back of realme 6 doesn't leave space for complaints. Both the Comet Blue and Comet White color models look super cool and premium.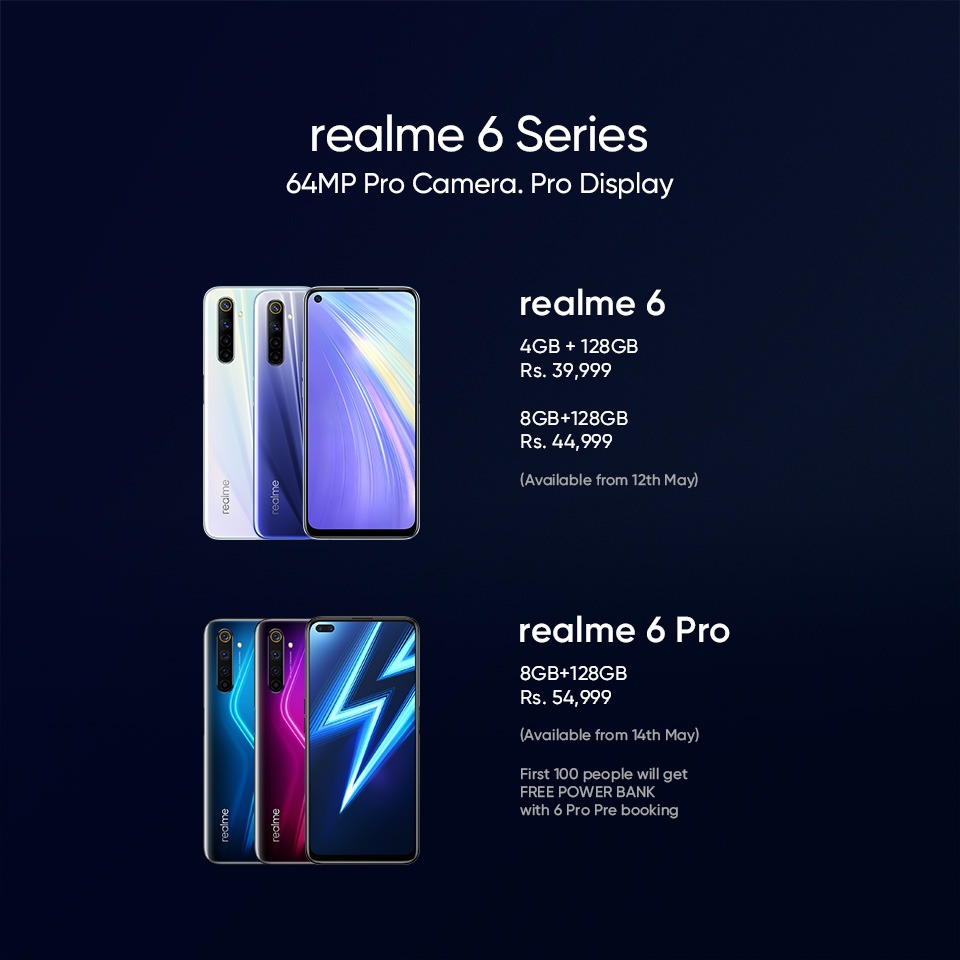 The build of Realme 6 is refined, polished, and looks like designed with ample time on hand. The curved back ensures better handling and the volume rockers + power button are within the reach.
Also, the volume rocker doubles as fingerprint-scanner. Some people don't like side-mounted fingerprint sensors but it is the best position to place the scanner. Just enroll both your index fingers and thumbs to utilize it to its maximum potential.
Realme 6 review: How's the display?
Coming to the front, the Realme 6 sports a 6.5-inch IPS LCD display with a punch-hole in the top left corner. The Full HD+ display has good brightness levels– enough to let you use messaging apps outdoors during the day. The screen produces vibrant colors and the viewing angles are brilliant. There is no shimmering or changing of colors, even if you look at the screen from an angle close to 180-degree.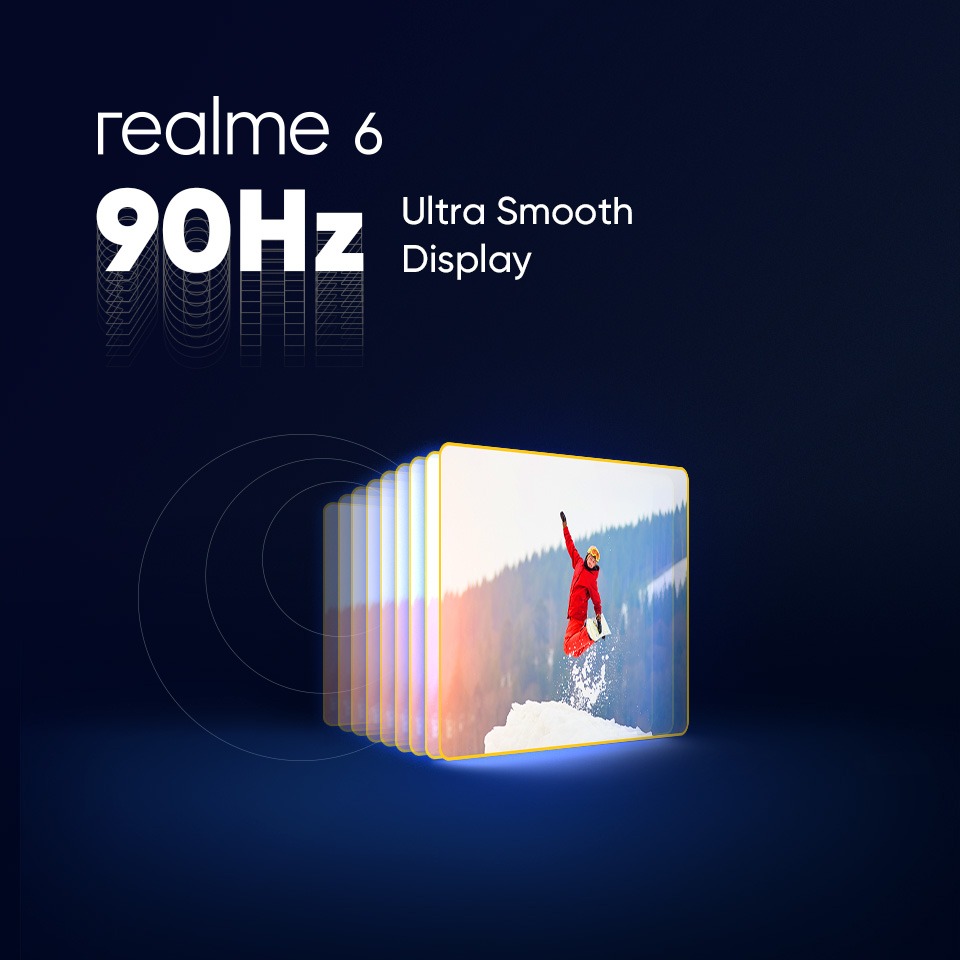 The best part about the display is its 90Hz refresh rate. The subtle smoothness is noticeable when you scroll through the user interface or your Insta-feed. It also makes gaming sessions more enjoyable but we'll come to that later in the review. If you want to feel the smoothness whenever you unlock the phone, just set the blue Live Wallpaper from the list of default options.
Realme 6 review: What about performance and gaming?
The realme 6 is powered by the MediaTek Helio G90T processor – The realme 6 could handle day-to-day tasks like using social media, listening to music, and watching videos quite easily. Even with extensive usage, the phone did not stutter a bit while switching between apps, editing photos, opening webpages in multiple-Chrome tabs, and more. The usage experience always stayed smooth.
Since MediaTek G90T is a gaming processor, it shines in the gaming department as well. I had the 8GB RAM model and it could play PUBG Mobile at HDR graphics with Ultra frame rates. The game doesn't lag, doesn't stutter, and frame drops are so minimal that you will not even notice it's there.
Realme 6 review: How is the user interface?
realme has improved its UI a lot since last year. The phone runs Android 10 with a customized realme skin over Color OS 7. This time around, you can actually change icon size and style. There is an option to change the font of the interface and the new somatosensory features like "auto ear pickup calls" and "auto-switch to ear receiver" are quite handy. It's good to see App Lock, Kids Mode, and Private Safe on the phone.
Realme 6 review: How is the camera?
The Realme 6 packs in a quad-camera setup at the back consisting of a 64-megapixel primary camera, an 8-megapixel wide-angle camera with a 119-degree field of view, a 2-megapixel monochrome camera, and a 2-megapixel macro camera. At the front, it has a 16-megapixel selfie shooter. The camera software is identical to what we have seen several other mid-range smartphones, and we had no issues going through the different shooting modes in the camera app. There are quick toggles for HDR, filters, and Chroma Boost. There is AI scene recognition and the smartphone is able to detect what it is pointed towards.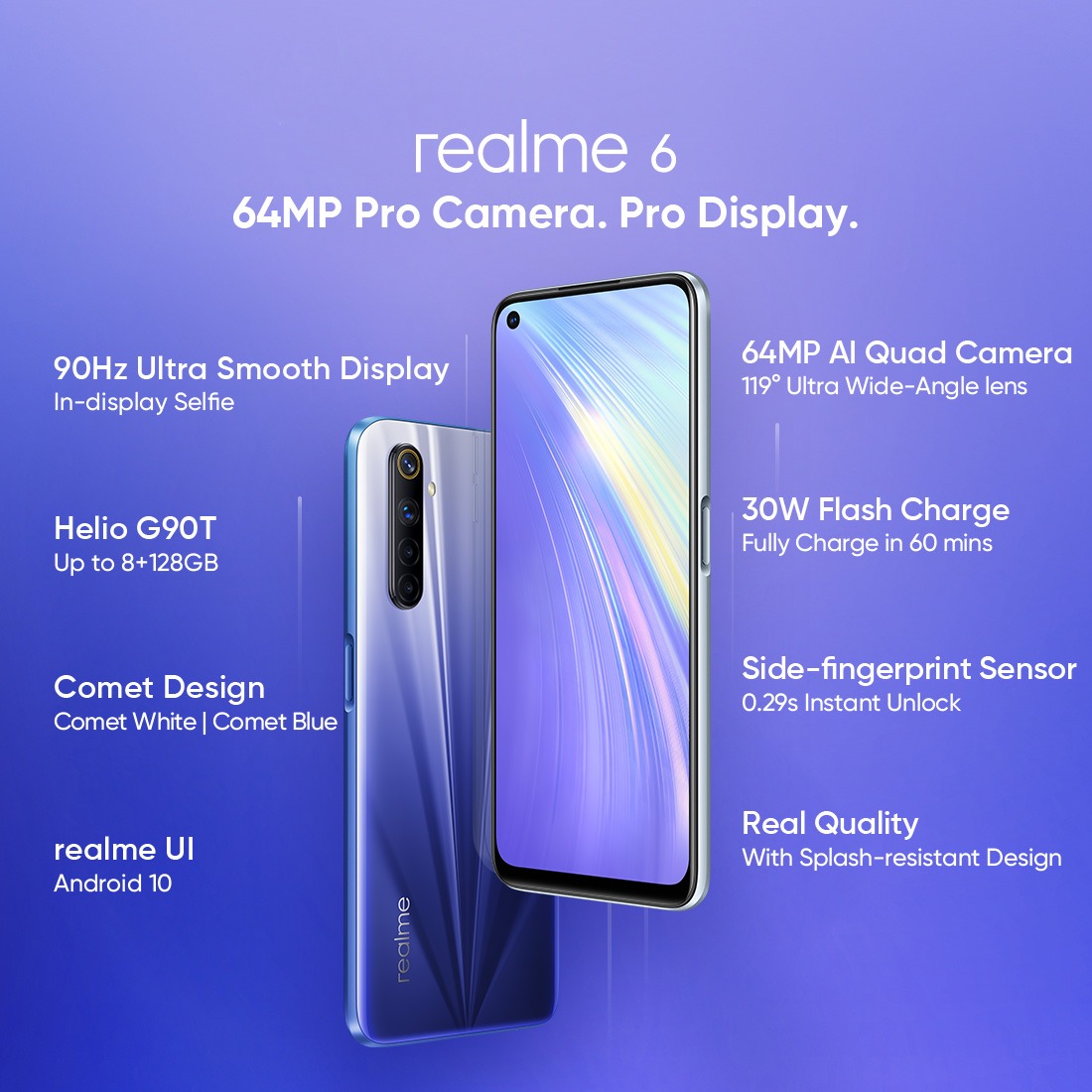 The Realme 6 is quick to focus and metered light properly in most scenarios. In daylight, the Realme 6 captured good shots, and details were visible on zooming in. In bright scenes, the Realme 6 enables HDR automatically. Photos are taken at 16 megapixels by default but you can take 64-megapixel shots if you like. Visit Instagram @shotonrealme_paksitan to see the sharp & crisp photos taken by "real fans" & realme photography experts all over Pakistan.
Realme 6 review: How is the battery?
The battery backup of the Realme 6 is impressive. With heavy usage involving an hour of gaming, four hours of video playing, three hours of combined internet browsing and social media, I was left with a 30-35 percent battery. On moderate usage, the 4,300mAh battery easily lasts a-day-and-half. The charging is even more impressive. The 30W fast charger comes in the box, and it charges the phone from 10 percent to 100 percent in around an hour. Within half an hour, the phone gets 60 percent charged from zero.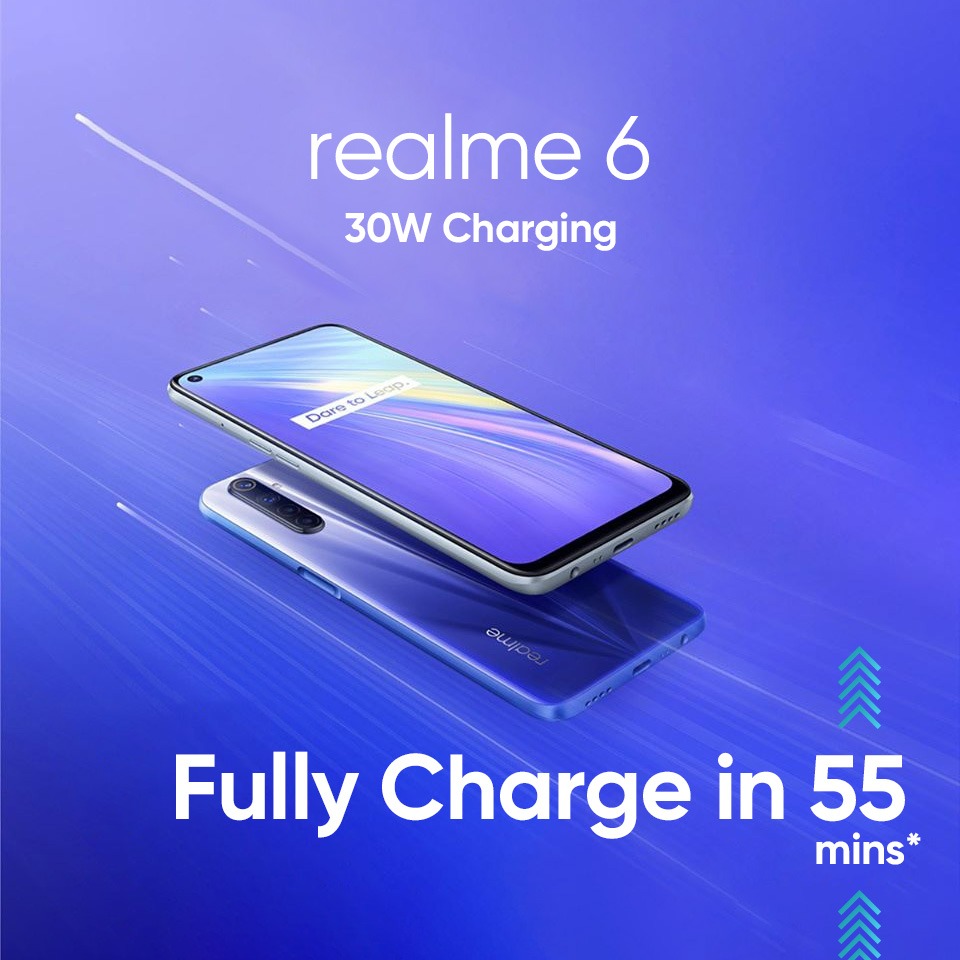 Realme 6 verdict: Should you buy?
We can safely say that the brand has managed to completely refine the user experience, overall phone's performance, and the camera quality over the period of one year.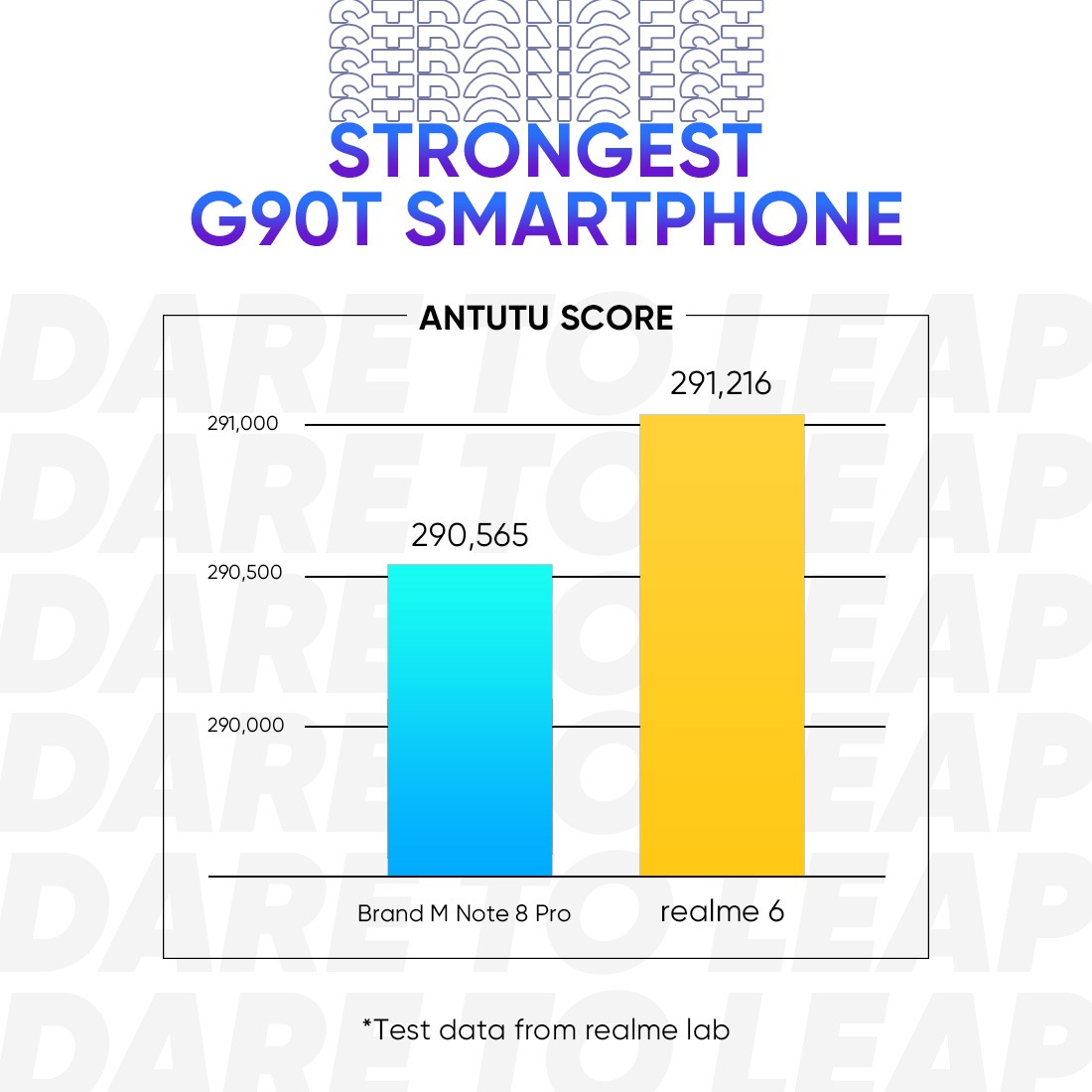 When people asked whether they should or shouldn't buy the realme 6, we don't have anything negative in particular to tell them. The phone offers good performance, nice display, long battery life, a spectacular design, and a camera that takes good daylight and night mode pictures. realme 6 is a value for money device and it is a tough competition to its closest competitor like xioami, vivo and Samsung.