When she was alive, everyone was talking about her. Now that she is dead, everyone is talking about her. The hit-drama serial Baaghi is making everyone talk about the late Qandeel Baloch. A lot of people who once hated or despised her have a different opinion regarding the late social media celebrity.
The major reason why Baaghi continues winning all the television ratings is that how it shows a side of Qandeel Baloch not many knew or tried to know. The hardships she went through, the decisions she had to make and the people who left her, all could be seen in this drama.
Out of the Many Unknown Facts Showed in the Drama, One is the Story of Qandeel's Love Interest
Played by Osman Khalid Butt, Shehryar is shown as the guy who fell in love with Qandeel in reality.
On the other hand, Pakistanis are now hinting that Osman Khalid is playing the character of Waqas Khan, a man who was seen with Qandeel Baloch on a few occasions.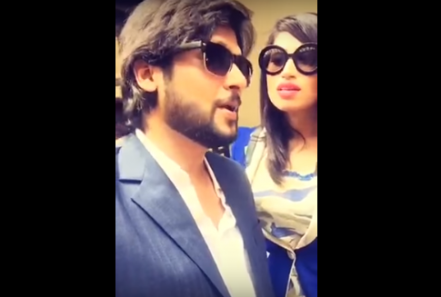 Waqas Khan Appeared with Qandeel Baloch in a Morning Show As Well
The two seemed to have a good bond as seen in the video.
Another Video Where Khan was Complimenting Baloch Showed How the Two May Actually Be in a Relationship
However, none of these videos showed that the character portrayed by Osman Khalid Butt might really be Waqas Khan. The truth can be revealed by the actor or by the individual himself only.
Regardless what the truth may be, guess we need to stop raising speculations and let Qandeel rest in peace. The drama is meant to show the struggles of the individual, not further speculations that may question the character of Qandeel Baloch. We all know what those speculations led to.
Rest in peace, Qandeel Baloch!