Guinness world records have included famous Pakistani martial artist Muhammad Rashid Naseem's two world records in their 'Best of 2020' list.
The video was shared by Guinness World Records on their YouTube channel. It illustrated the best records made this year.
Rashid's first record was breaking 256 walnuts with the help of his elbow. He broke them all within 60 seconds.
During the process, Rashid surpassed the record of India's Prabhakar Reddy. The Indian had broken only 229 walnuts.
Rashid's second record included in the list was breaking 62 clay sporting targets with punch strikes.
For this stunt, Guinness specially contacted Rashid on his birthday to break the previous record.
Here is the full video of Rashid's record breaking feat
It is essential to note that Rashid now has 63 world records while his academy "Pakistan Academy of Martial Arts" has set 77 records for Pakistan in Guinness.
The records by Rashid includes most walnuts crushed by the hand in one minute (284), most watermelons crushed with the head in 30 seconds (49) and most spins of a fire staff in one minute (188).
Check out the rest of 'Best of 2020- Guinness World Records'
Rashid's record breaking journey
Rashid's record-breaking journey started in 2013 when he participated at the Punjab Youth Sports Festival held in Lahore. He broke the record for the most bottle caps removed with his head in one minute (40).
In 2014, Rashid took part in an Italian television show Lo Show Dei. He made an attempt to break his own record by removing 61 bottle caps in one minute. Only in 2020, he has broken 14 records. This includes the fastest time to unscrew 10 bottle caps with a nunchaku, achieving a time of 17.82 seconds.
Rashid making Pakistan proud globally
The martial artist got worldwide recognition when his name was placed in the Guinness Book of World Records for breaking 254 walnuts from the head against an Indian player Naveen Kumar in the famous Italian TV show La Noti Dai Record.
Previously, India's Kumar held the Guinness World Record for most walnuts cracked against the head in one minute. He achieved the record in 2017.
In an interview with an international news channel, Rashid said, "I had only seven days to prepare for the attempt. It was just an amazing experience. I want to say that do what you can under your capacity to make the country proud. It doesn't matter what sport or field you are representing, just do your best for Pakistan."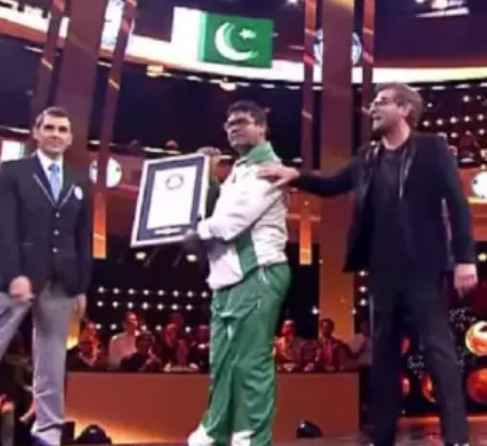 Check out another video of Rashid crushing 77 beer cans with his elbow in a matter of 60 seconds only. Thus, creating a Guinness World Record.
Pakistan is indeed fortunate to have a highly talented martial artist like Rashid.
It is important that the government of Pakistan must promote such athletes. This will also motivate other aspiring athletes to work hard and get recognition at the local and global levels.
What do you think of this story? Let us know in the comments section below!