Asif Ali Zardari, 11th president of Pakistan and co-chairman of Pakistan Peoples Party was arrested last Monday by the National Accountability Bureau in money laundering case. His sister, Faryal Talpur who was also facing money laundering case, was arrested yesterday.
Majority of our politicians are knee deep into corruption. They gain illegal wealth while the entire nation's situation if not worse than stays the same; which is extremely poor.
PPP and PMLN have been the ruling parties notoriously known for ruining the economic conditions of Pakistan. Plundering the nation deep into debt while the standard of health care and educational institutions crumpled. The common man was left helpless and the educated frustrated as the job opportunities promised never came to fruition.
Coming back to Zardari, NAB arrested him from outside his residence in Islamabad. There's a video of Zardari being taken into custody by NAB officials shows a very calm, collected and unphased former president.
Here's The Video Of Zardari Shaking Hands With NAB officials, Smiling And Signing Papers In Peace.
His collected and confident demeanor in the face of arrest and getting marked as guilty for looting the money of Pakistan and destroying the nation, is commendable. However, due to PPP government's corruption, their rule is widely considered the worst Pakistan has witnessed.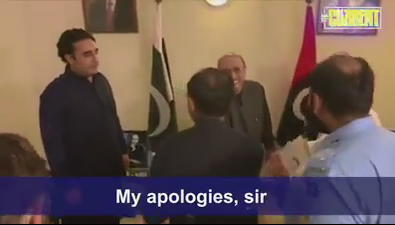 A total of three NAB teams arrived at his residence and stopped people from entering or leaving his house. However, NAB told its team to wait before arresting Asif Ali Zardari. It approached the speaker of National Assembly first to get approval for his arrest and then continued on.
Along with the siblings, several of Zardari's friends were also arrested. Both him and Faryal Talpur were given interim bail that was extended several times before being rejected this Monday.
PPP Loyalists And Workers Broke Out In A Protest While The Opposition Party (PMLN) Suspects The Timing Of Zardari's Arrest.
A large number of protests emerged from different areas of Pakistan, mainly from the PPP ruled Sindh. PPP chairman Bilawal Zardari appealed to every supporter to remain calm and wait for the party's go-ahead and directives.
What are your thoughts on this? Let us know in the comment section below.