The evolving female rapper Eva B has finally found the right person to marriage and he's Mudassar Qureshi
Internet was filled with news all over social media regarding Eva B's marriage because she had posted several videos and photos of herself dolled up in a bridal avatar.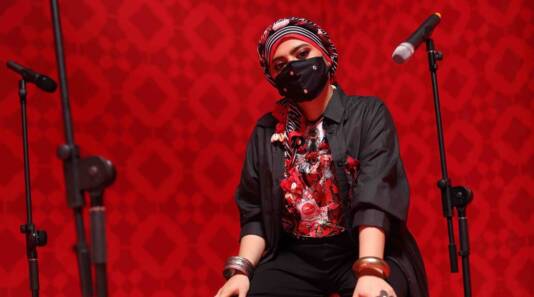 Eva B is one of those singers who gained endless popularity through her breathtaking performance in Coke Studio season 14 and followed by other tracks that grabbed everyone's attention.
Not only that, but her appearance in the rapping culture is also surprising for everyone because in Pakistan we don't see female rappers evolving that much but she came and broke the stereotype mindset.
Rapper Eva B Marriage With Musician Mudassar Qureshi
She took her big day to Instagram where she revealed the big news and shared everything. Pakistan's first female rapper Eva B ties her love knot with musician Mudassar Qureshi and fans could hold their happiness.
Eva B announced her marriage on Instagram with a picture of her henna design. "Finally! Alhamdulillah," wrote the Rozi singer, also tagging her now-husband Mudassar in the post.
It became very obvious when the popular makeup artist Waqar Hussain posted several photos of Eva B clad in beautiful bridal attire. "First Look!" penned Hussain in the caption of the post. No doubt, Eva B marries musician Mudassar Qureshi surprised her followers.
Eva B's Wardrobe Worth Checking Out
Eva B in a red ensemble with a heavy golden and green embroidery dress looks stunning. Even her hat makeup and pieces of jewelry complement her look. She's even flaunting her exceptional henna design for her "big day."
Just after her Coke Studio debut, Eva B changed the dynamic of rapping culture by being the first female rapper in the industry. She spoke about her journey and claimed: "keeping silent won't work for her at all."
What do you think of the story? Tell us in the comments section below.