Yesterday, Tuesday evening, Rangers surrounded the streets leading towards the factory of Roohafza (a non-alcoholic concentrated squash made with fruits, herbs, and vegetable extracts) in Surjaani Town, Karachi, Sindh. A heavy contingent of the paramilitary forces was present in the neighbourhood, closer to a nearby warehouse that happened to store the product.
"[It is a] part of a strategy to criminalise/terrorise use of Rooh Afza to compel people to switch to Jaam-e-Shireen", Baray Mian tweeted.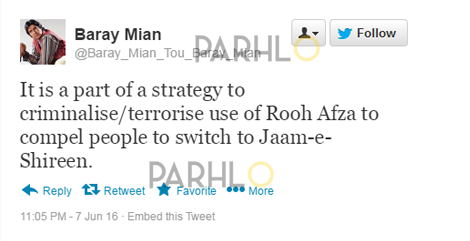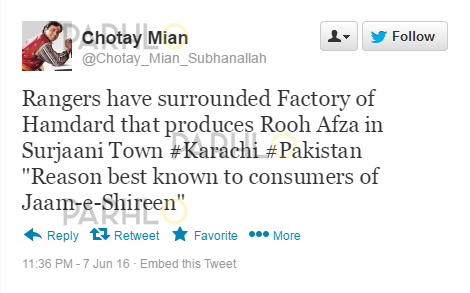 Meanwhile, speaking to a private TV channel, the owner of the factory said, "I will first have a glass of Rooh Afza with milk before facing Qarshi, the company that makes Jaam-e-Shireen."
"This is not the right way to treat the Mashroob-e-Mashriq. They should have asked before coming over and I would have given each one of them a bottle myself."
No refuge was given to any sharbat by Naurus , added the factory owner.
Drinkers of Rooh Azfa took to Twitter to express their outrage.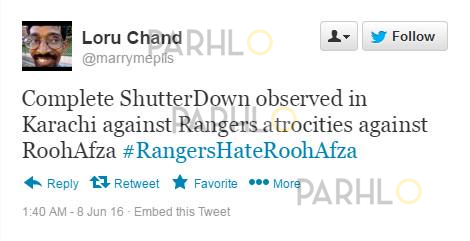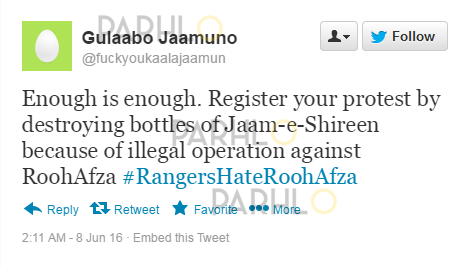 Some people rumored as Jaam-e-Shireen supporters were in favour of the action taken.
However, the drinkers of Rooh Afza still stand strong
Further details are still unknown.