Well, it finally happened. Ranbir Kapoor and Alia Bhatt are officially married. The couple tied the knot at their home in Bandra, Mumbai.
Bhatt announced the news via an Instagram post complete with pictures from the wedding. The wedding was an intimate affair held at the Kapoor family home.
"Today, surrounded by our family and friends, at home… in our favorite spot – the balcony we have spent the last 5 years of our relationship – we got married," the actor wrote.
"With so much already behind us, we can't wait to build more memories together… memories that are full of love, laughter, comfortable silences, movie nights, silly fights, wine delights, and Chinese bites. Thank you for all the love and light during this very momentous time in our lives. It has made this moment all the more special," she said, signing off from her and Kapoor.
What did the couple wear?
In the pictures, Bhatt is wearing an ivory-colored sari while her husband wore a similar colored sherwani and pagri. The couple was — of course — wearing Sabyasachi, the designer that almost every Bollywood couple seems to patronize at their wedding.
According to the brand, Bhatt wore a hand dyed ivory organza sari embroidered with fine tilla work and an embroidered handwoven tissue veil. She paired it with jewels from the Sabyasachi Heritage Jewellery line featuring uncut diamonds and hand-strung pearls.
Meanwhile, Kapoor wore an embroidered silk sherwani with Sabyasachi uncut diamond buttons, a silk organza safa, and shawl with zari marori embroidery, according to the brand. "The kilangi by Sabyasachi Heritage Jewellery features uncut diamonds, emeralds and pearls, and a multistrand pearl necklace."
The star-studded guestlist for the event included Kareena Kapoor, Saif Ali Khan, and their children, Karisma Kapoor as well as the Kapoor and Bhatt families.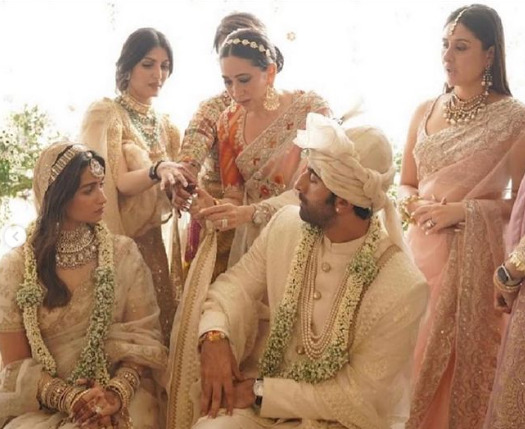 After tying the knot, the couple made it even more official and came out to greet fans and paparazzi outside.
In light of the wedding festivities of Ranbir Kapoor and Alia Bhatt, actor Sanjay Dutt earlier shared some advice for Bhatt, who starred with him in Sadak 2, and Kapoor, who played him in the biopic Sanju. He advised that Kapoor and Bhatt assess situations ahead but also remain on the same page as a couple.
Read More: Here Is All We Know About Ranbir Kapoor & Alia Bhatt's Impending Nuptials!
What do you think of this story? Let us know in the comments section below.