The grandson of renowned Pakistani music director Khawaja Khurshid Anwar is following in his late grandfather's footsteps. Rameez Khawaja Anwar, a composer, and multi-instrumentalist who was born and raised in Texas, was always drawn to the film songs composed by his grandfather and other luminaries of the Bollywood-Lollywood film industries.
"Growing up in America, my musical influences definitely skewed more towards Western pop, rock, and a little bit of hip hop," Rameez recalls.  "But our parents always made sure my siblings and I were exposed to Desi music from a young age.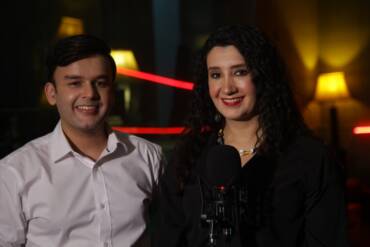 'A love-letter to songs of Bollywood and Lollywood'
We used to spend countless hours driving back and forth between our home and Dallas listening to classic Bollywood and Lollywood music from guys like Naushad, O. P Nayyar, and Salil Chowdhury.  And of course, my parents were always up to date with the latest gems from A. R. Rahman or Nusrat Fateh Ali Khan.  So, we had a really eclectic mix of songs that formed the background music of our childhood and adolescence."
Rameez's upcoming music video for his new song, 'Woh Umeed Ki Manzil,' is a love letter to songs of Bollywood-Lollywood past.  The song hearkens back to an era when melody was king.  The music is filled with little details – from the use of instruments like vibraphone, bansuri, and sarangi, to the bombastic piano entrance to kick off the song – that recall classic hits from that golden era of subcontinental film.
Watch 'Woh Umeed Ki Manzil' here
The centerpiece of the track is an evocative vocal performance from Zeb Bangash, who decorates the melody with the kind of delicate flourishes typical of singers from that era while maintaining a pathos that is perfectly tailored to the emotional lyrics and musical accompaniment.  All of which is to say that Zeb has turned in a timeless performance that listeners will be returning to for years to come.
The music video was directed by Maham Khwaja, Rameez's cousin, and another of Khurshid Anwar's grandchildren.  From the opening frame to the final shot, it's clear Maham has done her research in order to lovingly recreate the look and feel of one of her grandfather's songs.  From the black and white images; to the makeup, hair, and wardrobe; to the stunning garden setting overlooking a winding river; to the frames full of fog.
At the heart of the music video are the pitch-perfect performances from leads Aniqa Khwaja (no relation) and Nikhil Saboo.  The young, up-and-coming actors – Aniqa recently starred in a short film making the rounds on the international festival circuit and Nikhil just completed a stint on the Broadway production of 'Mean Girls' –  manage to convey the entire life cycle of a relationship – the highs and lows, the joy and despair – in the short span of a four-minute music video.
A tribute to Khawaja Khurshid Anwar
The seed for the song actually began with Rameez's father, Dr. Khawaja Nauman Anwar, when the latter was just a young boy.  Dr. Anwar came up with the melody after reading a novel when he was 15-years old.  At the end of the novel was a poem that began: "Woh umeed ki manzil, ab kahaan nigaahon mein." Dr. Anwar recounts coming up with the melody within ten minutes.  However, despite growing up under the same roof as Khurshid Anwar, the young Dr. Anwar was not musically trained and did not know how to grow the melody into a full-fledged song.
The level of thought and care that went into this project is plainly evident, and it's safe to say all that effort has paid off: it's hard to shake the feeling that one has unearthed some long-lost music video from the heyday of the Bollywood-Lollywood film industries.  And yet, at a time when the trend for popular music globally is to move towards a homogenous sound, there is something refreshing about this throwback to a bygone era.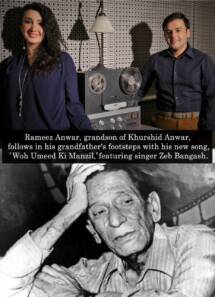 Khurshid Anwar's concern for preserving music traditions was well-documented; after all, that concern is what animated his production the 96-volume Ragamala.  In producing "Woh Umeed Ki Manzil," a song that attempts to revive a rich tradition of Subcontinental film music, Rameez and Maham have hit on fitting tribute to their grandfather.