A mob stormed a Hindu temple in Bhong town of Punjab's Rahim Yar Khan district on Wednesday, damaging idols and burning down the temple's main door in an attack.
Asif Raza, a police official in the district, said the mob briefly blocked a road nearby after the attack on a temple in the city of Bhong, Rahim Yar Khan on Wednesday.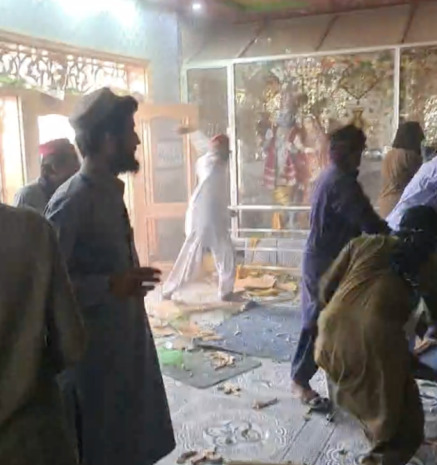 According to the police, the attack followed the alleged desecration of a madrassa earlier this week by a Hindu boy. He said the vandals were incited by a court ruling that granted bail to the 8-year-old in the alleged desecration. The boy was earlier arrested on charges of allegedly urinating on a carpet in the madrassa's library that housed religious books.
The mob alleges the boy committed blasphemy, reported the AP News. Rasa said Pakistani troops were called in to restrain attackers and bring the mob under control. He added, however, that the temple had already been damaged when the soldiers arrived.
Special Assistant to the Prime Minister on Political Communication, Shahbaz Gill said in a tweet that the PM Office had taken notice of the sad and unfortunate incident. He said that the prime minister had directed the district administration to probe the matter and take strict action against the culprits.
Taking note of the incident, Human Rights Minister Shireen Mazari said the act was a violation of the Constitution and the basic human rights of Pakistanis.
A number of video clips emerged on social media, showing dozens of men armed with sticks. As they shout slogans in the temple, they can be seen smashing the idols into pieces.
Twittersphere condemns the act
In a similar incident last year, charged crowd led by local clerics set a Hindu temple on fire in the Karak district of Khyber-Pakhtunkhwa (K-P). Reportedly, the Hindu community had obtained permission from the administration to extend the construction of the temple.
However, the intolerant local cleric infused the crowd with a fiery speech. After feeding off, the crowd stormed into the temple and set it ablaze, and razed it to the ground. Videos of the demolition of the temple circulated on social media. Earlier that year, the work on Shri Krishna Mandir in Islamabad also stopped after protests against its construction.
Perhaps, rather than focusing on the Islamaphobia in the West, Prime Minister Imran Khan should pay heed to the violence taking place against the minorities in his own country. Clearly, the government's move to promote interfaith harmony has failed. The government should take action on the recent atrocity.
What do you think of this story? Let us know in the comments section below.