Each time we saw the former Chief of Army Staff Raheel Sharif was either when he was on duty or when he was making sure the enemies learned the lessons. Ever thought you'd see the guy dancing, let alone smiling? Guess that comes to reality now as well.
The former COAS General Retired Raheel Sharif was seen showing his dance moves with fellow Pakistani soldiers on a Pashto song. While Raheel Sharif was on his visit to Abbottabad, he shared some of his moves with fellow jawans.
The Video of General Raheel Sharif Dancing with Fellow Officers and Soldiers Instantly Went Viral on the Social Media!
We weren't the only ones who were thrilled – even the fellow officers and soldiers were surprised to see former COAS dancing on the Pashto song at the Frontier Force!
General Raheel Sharif dancing with officers and jawans on a Pashto song! This man is so adorable! ❤ pic.twitter.com/iguF62AMPx

— Adeel (@Adeel_Raana) March 21, 2018
Look at the smile on his face!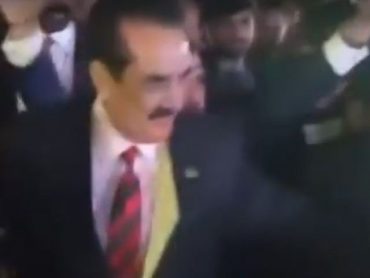 And the Pakistanis Loved Raheel Sharif's Hidden Talent!
Gen (retd) Raheel Sharif got talent pic.twitter.com/Gn6buRSaTg

— Roohan Ahmed (@Roohan2Ahmed) March 20, 2018
Retd. General #RaheelSharif exhibiting few dance moves with officers and jawans on a Pashto song during his visit to the Piffers mess in Abbottabad.
❤ #PakistanArmy #Pakistan pic.twitter.com/sakmCOjspO

— PKKH | PakistanKaKhudaHafiz (@PKKHTweet) March 25, 2018
Guess the army men of Pakistan are pretty good at hidden talents, don't you think?
Remember Retired General Pervaiz Musharaf's Dance Moves?
General Qamar and General Raheel earlier this week pinned on Lt Gen Ghayur Mahmood as the new Colonel of FFR, Frontier Force Regiment.
Great to see a new, fun side of a man who always painted a strict, serious image of himself throughout the tenure.
#ThankYouRaheelSharif???