Just a few days ago, the internet was on the neck of Humsafar OST singer Quratulain Baloch because of her opinion on Pakistani politician Imran Khan.
Remember the entire Ayesha Gulalai and Imran Khan 'inappropriate texts' controversy? Well, QB just found out about that through a video surfacing on the internet and she called out Imran Khan for his acts.
Here's Exactly What She Tweeted
https://twitter.com/Quratulainb/status/932964417368678400
She called Imran Khan an "asshole" and well, as a reputable public figure in Pakistan, it did not come out well.
Based on the Hatred She was Bound to Receive After Commenting on Imran Khan in Such a Manner, Here's What She Said
That's just a glimpse into what women go through everyday. Keep it coming!

— Quratulain Balouch (@Quratulainb) November 21, 2017
There were Mixed Responses towards QB, but Safe to Say, She Did Receive A Lot of Hate
Quratulain Baloch, you're doing great sweetie. I JUST LOVE YOU.

— Anas Tipu (@teepusahab) November 21, 2017
Who is quratulain baloch? Another nobody trying to get attention by criticizing IK

— SHAH ?? (@mel_shah) November 21, 2017
Looks like Quratulain Baloch's rant on twitter totally backfired on her. Did she seriously believe that hurling obscenities at one of the most respected men in Pakistan was going to help her gain popularity or fans? ?

— Soraya Aziz (@SorayaAziz) November 21, 2017
Quratulain Balouch has become my most unfavorite singer now. pic.twitter.com/mvHKqaJtWD

— Baji Please (@BajiPlease) November 21, 2017
the fact that Quratulain Baloch talked about that Imran Khan thing after about 4-5 months shows how well informed she is about the issue.

— haider (@ZuHaider) November 22, 2017
Quratulain Balouch is being subjected to vile, misogynist abuse by PTI supporters for standing up for women's rights.

From racism to misogyny & religious extremism, PTI & its support base embody everything morally revolting which Pakistani society has to offer. pic.twitter.com/netGuIfzmE

— saeen (@saeen90_) November 22, 2017
Quratulain Baloch didn't really comment on what happened – despite how everyone was talking about what she said. Until two days ago when she shared a subtle caption on her Instagram.
Sugarcoating is a skill. I refuse to master that hypocrisy
Quratulain Baloch shared a picture on her IG with this caption.
And People Started Throwing So Much Hate her Way!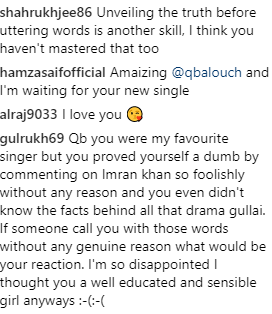 There were Some Sane Supporters in the Comments As Well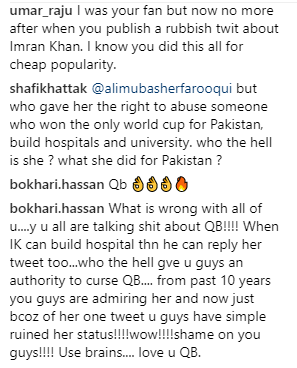 Some People Went too Far and Abused her As Well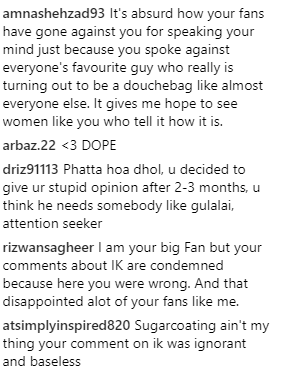 It is sad to see how people who claim to be her fans once are now throwing so much hate her way only because of her opinion. The choice of words she used is debatable – but she is entitled to her opinion and people should let a public figure enjoy that as well.
Let's see if she ever comes out to speak about this in the public.