WARNING: Some viewers may find the content of this story disturbing. Viewer discretion is advised.
It is truly saddening to see how some unsupervised madrasas in Pakistan are becoming a place of harassment, abuse, and child molestation. Another devastating incident took place recently when a Quran teacher brutally torturing and hitting innocent minor children over forgetting a lesson. In fact, he even gets the ordeal filmed. What an utter disgrace to humanity!
Not only is this news tragic and depressing; rather the thought of being a victim of such traumatic experience makes us wonder what is the world coming to? Since when have we become so deprived of humanity?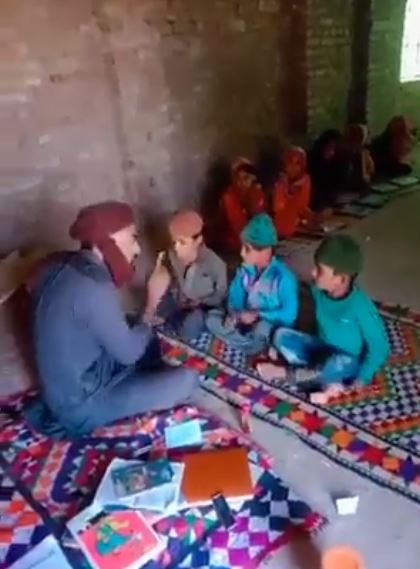 It is completely terrorizing to see how such sadistic and sick-minded people are even trusted around children. Regardless of child abuse cases; be it sexual or physical, emerging every now and then, some parents seem adamant about sending their innocent children to the so-called religious institutions, where they expect such teachers to enlighten them with religious knowledge, and bring them to the right path.
Are they so in the dark about the unspeakable happenings that take place in these institutions? Mind you, parents are to be equally held accountable for putting their children through such brutality.
The bigger question is – what kind of a disgusting pleasure do these repulsive qaris achieve out of torturing unworldly children? Guess, we will never know!
WARNING: Some viewers may find the content of this story disturbing. Viewer discretion is advised.
Here is the torture video. Sick!
As of now, the whereabouts of this tragic incident are unknown. In addition to this, the identity of the qari teacher torturing the minors and getting filmed is also undefined at the moment. Many people in the past have appealed to the government and non-profit organizations to take strict action regarding madrasas.
As a matter of fact, the need for legal actions regarding such cases is of due importance. Nonetheless, no matter how deplorable and disturbing the situation gets, this is not the first time such a horrifying incident has come up, and to our dismay, nor will it be the last.
Just a while back, another case of harassment and abuse shook us to the core, as a Qari threw acid on his students for not keeping quiet about his assault. The only fear in our minds is that will justice prevail? Will these innocent kids get the childhood they truly deserve?
Pakistan has a strict law against abusers. However, it happens rarely, that a criminal is punished for his crimes. It can be due to the unstable judicial systems or due to the consensus of godfathers that tend to take these criminals under their wing.
What do you think of this story? Let us know in the comments section below.