Anas (may Allah be pleased with him) reported Prophet Muhammad (may Allah's blessings and peace be upon him) as saying, "When a man marries, he has fulfilled half of the religion; so let him fear Allah regarding the remaining half." (Bayhaqi)
One way of announcing commitment between a man and a woman willing to share a bond in the near future is getting engaged to each other, something which has been a part of the world for decades. People all over the world celebrate the union of love and commitment by being engaged.
In the West, when a man proposes to a woman, he gives her a ring and they are engaged to be married. In our society, however, engagement is an exchange of rings with the commitment of not just the two, but of the family as well.
But What Does Islam Have to Say about the Union of a Couple Through Engagement?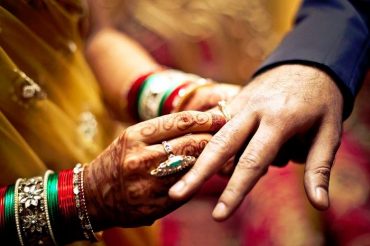 You commit no sin by announcing your engagement to the women or keeping it secret. GOD knows that you will think about them. Do not meet them secretly, unless you have something righteous to discuss. [2:235]
While Islam does not discard the concept of engagement, it does not speak in favor of it either. Islam gives a man and woman the right to get to know each other before marriage. The engagement, however, is then used as an alternative for the society to see the man and woman are bound in a relationship with the blessing of their families.
However, if the engagement is led to adultery/sexual relation, it something is forbidden in Islam; be it during engagement or without engagement. Adultery is a sin in Islam and engagement does not give any right to a man and a woman to attempt it.
You shall not commit adultery; it is a gross sin and an evil behavior. [17:32]
Allah has given the right to a man and a woman to get to know each other before they come in a union of marriage, a sacred relationship in the light of Islam.
It is important to make prayer for yourself to make sure Allah is guiding your decision to be engaged to this person. Make loads of dua and even istekhara and the indeed, Allah will always be there to guide His people.