Quetta police male officers assault women in the city's Toghi Road area on Monday. A video of the officers assaulting women went viral on social media, prompting Balochistan's Chief Minister Abdul Quddus Bizenjo to take notice of the incident and order an investigation.
The CM ordered the inspector general of police (IGP) to take immediate action against the police personnel involved in the incident. He told the police chief to suspend the officials and sought a report after the completion of the preliminary inquiry.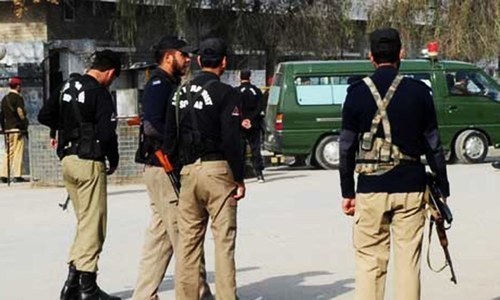 "Citizens, especially women, must be respected by the police," the provincial chief executive said. "If the arrest of women was necessary then action should have been taken by a lady police officer." Terming the attitude of the police as "absolutely unacceptable," Bizenjo said. "It is important to restore public confidence in the police."
Deputy IGP Syed Fida Hassan Shah, on the other hand, said that two police officers, Sub-Inspector Abdul Naveed and Gunman Ghulam Raza, have been suspended. He also said that legal proceedings against them have been initiated. Shah said that the parents of the three missing women had filed a report about them at Quaidabad Police Station.
He said that the parents spotted their daughters in the Toghi Road area of the provincial capital on Monday evening. In addition, the police reached the spot to hand them over. "Yes, there had to be lady police officers, but the officers on duty demonstrated negligence," he added.
WARNING Some viewers may find the following video disturbing. Viewer discretion is advised.
Disturbing video:
The viral video shows how the male police officer catches a woman, throws her in a police car. Another woman is then brought to the vehicle. However, when she resists, he picks her up and severely beats and pushes her in. Although the third woman does not resist much, she is also pushed close to the police mobile.
Following the viral video showing male police officers arrest and assault women in Quetta, social media users sharply criticized the police's behavior.
Note that, under the laws of Pakistan, no woman can be arrested without the presence of a lady police constable. Not only that but even a police search on a female suspect cannot be conducted by a male police officer.
In a similar case earlier, a video surfaced on social media earlier that showed a woman being dragged by a police official of Punjab. It may also be recalled that last year, a Gujranwala ASI sexually assaulted a 23-year-old woman during an investigation into a quarrel case.
What do you think of this story? Let us know in the comments section below.