For months and years, there is always a debate on how the morning shows airing in Pakistan have gotten utterly useless. From showcasing branded lawn and designer wear clothes like a normality to doing fair and ghareelo bahu hunting, there is so much wrong with the morning shows of Pakistan.
The Eid transmissions are something else – mostly it now revolves around the entertainers promoting their films that are released on Eid. To attract the masses, the actors visit the shows on Eid and talk about their films and other 'exciting' things.
This Time On Eid, At the Morning Show of Sanam Baloch, Humayun Saeed Was One of the Guests
For promoting his film Jawani Phir Nahi Aani 2, Saeed and his co stars were seen all over the Pakistani channels for promotion.
During the promotional segment of this morning show, a bizarre question was asked:
"When a guy sees an unknown girl, what's the first thing he says to her?"
And the options are EQUALLY bizarre:
I have seen you somewhere before
Hello
Masha Allah
Uff kya bachi hai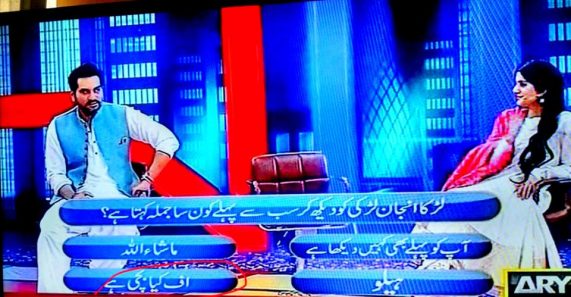 First – WHAT is wrong with our media?
Second – They are asking this question from a 40+ year old man who is not only married, but also a father. How utterly disgusting is this and "uff kya bachi hai"?
Probably his children watching the show would and SHOULD be equally embarrassed.
And the Social Media Reacted Pretty Perfectly On this
How media normalizes sexual harassment. Exhibit A pic.twitter.com/4K876A0DSW

— Ailia Zehra (@AiliaZehra) August 23, 2018
This is how jokingly the society contributes to such low things. What's the point of this question? Do we have to take everything so lightly and normalize everything? And then complain about the wrongdoings happening around us?
This is shameful to see what our morning shows have become.