Qandeel Baloch never hid her feelings for Imran Khan. The bold social media celebrity was known for her confidence, something she was never afraid to hide from the world. On numerous events, she made videos showing her love and support for PTI chairman Imran Khan. Qandeel Baloch even said a number of times how she would want to marry Khan one day.
She Once Made a Video And Even Sang a Song to Show Imran Khan What he Means to her
Days after Khan had a divorce from the 2nd wife Reham Khan, Qandeel proposed to him through a video message she shared on her Facebook.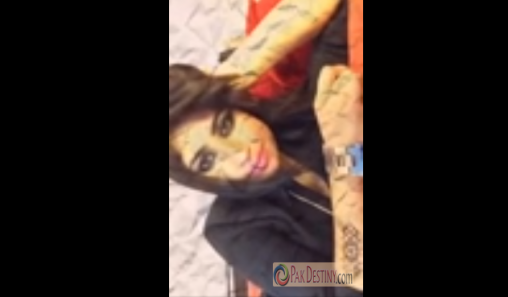 She Even Tried to Propose Khan By Traveling to One of his Jalsas!
Traveling all the way from Karachi to Lahore, Qandeel Baloch participated in PTI's jalsa, hoping she could meet the chairman and then she would tell him how much he means to her.

However, that did not happen and everyone remembers how heartbroken Baloch was afterward.
Deep down, Baloch knew there was another woman Khan was involved with. On the 1st of January 2016, in an interview to a local morning show, Qandeel Baloch revealed the involvement of Khan with Bushra Bibi.
While the alleged rumors of Khan's involvement with Bushra Bibi surfaced recently, Qandeel Baloch knew it long away and this resurfaced interview proves it.
Qandeel Baloch Reveals How Bushra Bibi is Called 'Pinky' In Bani Gallah and That Khan Intends to Marry her
As soon as Qandeel found out that Khan is interested in his 3rd marriage, she dug deeper to know the truth about the story. The facts of Qandeel were spot on – she knew Bushra Bibi is Khan's spiritual reader, the daughter of a former MNA and that Khan is interested in marrying her.
Here's the interview:
عمران خان اور بشری مونیکا کے درمیان مبینہ تعلقات کا انکشاف سب سے پہلے مرحومہ قندیل بلوچ اور تحریک انصاف کے ترجمان فواد چوہدری نے کیا تھا ۔۔۔۔۔ pic.twitter.com/QrLVtaI6yJ

— Ahmed Waqar Bibi (@WaqarBibi) January 7, 2018
Well, one thing is for sure, Qandeel Baloch surely knew how to gather the information while the rest of the world took her easy.
On the other hand, it also shows that Khan had waited for years to reach out to Bushra Bibi with a proposal she has yet to accept.