The fire that broke out in the basement of a superstore located inside a multi-story building near Karachi's Jail Chowrangi on Wednesday had still not reportedly been brought completely under control till Friday evening.
A man died, while six others, including three firemen, fainted when a fire broke out in the basement of the departmental store.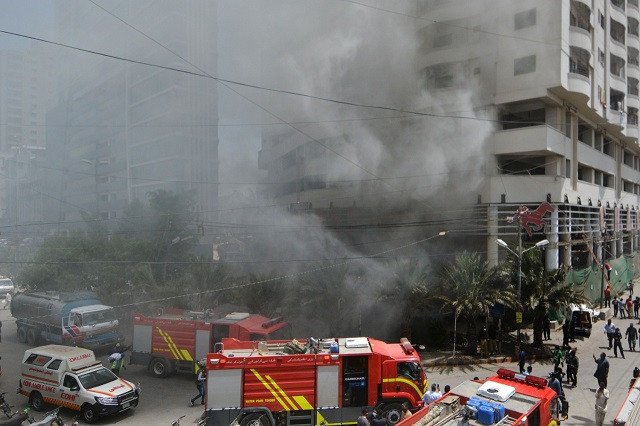 Meanwhile, a video has emerged on the micro-blogging site in which a group of people can be seen giving Azaan in an attempt to extinguish the fire. According to the user who shared the video, the incident took place on Thursday.
"In Karachi yesterday, a supermarket near Jail Chowrangi, was on fire," read the tweet. "An experiment was carried out to extinguish [the] fire by group Azan. It didn't work."
Have a look at the video:
As the video made rounds on the site, users were left scratching their heads.
Twittersphere has a lot to say
Fire continues to rage
Deputy Commissioner East Raja Tariq Chandio, when speaking to Dawn News, pointed out that firemen had said the fire had been controlled at least four times but added that it kept reigniting. So far, they have been dousing the smoke while the fire continues to burn inside the basement, he commented.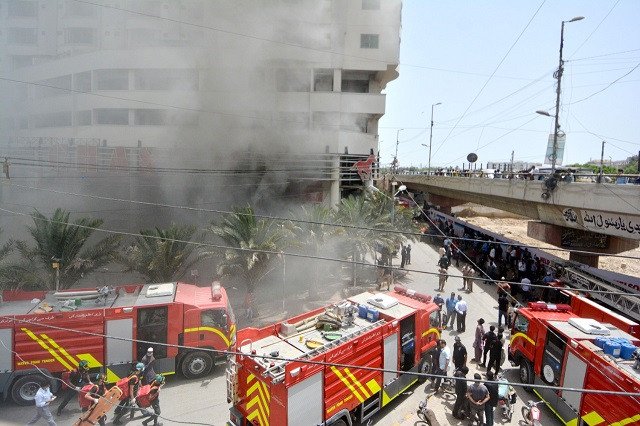 Chandio said that the main issue was that the basement, which was meant for parking vehicles, had been used by the owners of the store to hoard edibles and other items.
The DC said he had received reports that store officials had hoarded a large quantity of cooking oil in anticipation of a hike in prices, which had added: "fuel to the fire". The official went on to say that the fire had erupted once again on Friday afternoon and traveled to another floor reserved for parking, causing damage to several motorcycles.
Chandio was also of the opinion that, in addition to the presence of a large quantity of cooking oil, firemen were also facing difficulty due to a lack of access to the basement. He said so far, firemen had been trying to control the smoke emanating from the basement.
The DC disclosed that 0.8 million gallons of water had been poured into the basement, adding that there were at least five to six feet of it. He said that a case had been registered against the owners of the superstore but admitted that no suspect had been arrested so far.
Read More: Dadu Tragedy Exposes Negligence Of Sindh Govt As Villagers Mourn Death Of Nine Children
What do you think of this story? Let us know in the comments section below.