Pakistan is a country of traditions and festivities. We take pride in celebrating events on a grand scale. Whether there is some kind of a traditional event or a wedding ceremony, we spare no expenses just to make the event stand out and remembered for days to come. The wedding season especially is the most awaited time of the year.
The start of someone's wedding paves way for the family and friends to enjoy and hold numerous events. From dance and music-filled Mehendi night to a lavish valima reception everything is eagerly awaited. Everything during a wedding is bound to be decorated from the walls of the house with lightings to the car with flowers.
Accept it or not, we all must have thought about our wedding day and how we are going to make it memorable. Women await this day so that they can get dressed in jewels and wear the bridal dress. Guys wait for this day too, you might find it hard to believe it. In some cases, guys actually are more eager.
Also read: Oops! Men Planning Their Second Marriages Now Need 'Legal' Consent Apart From Their First Wives!
But get ready for what we're about to tell you!
The story comes from Rajanpur, Punjab. It was reported on social media that a guy stopped his younger brother's baraat to make way for his own. The story, as it happened, is that a guy, fed up of being single and unmarried life, lost it when he saw his brother's baraat making its way before his own.
You can imagine the level of frustration here. We all can. We all want to know who our life partner would be and we want this process of waiting to end quickly. Just imagine having to wait for years to finally arrive on a wedding day and it's not your own. The icing on the cake, however, is when you realize that your turn was skipped. It would now be your younger brother who becomes the groom before you. This is what happened exactly with this poor soul.
This is him on a chaar paayi!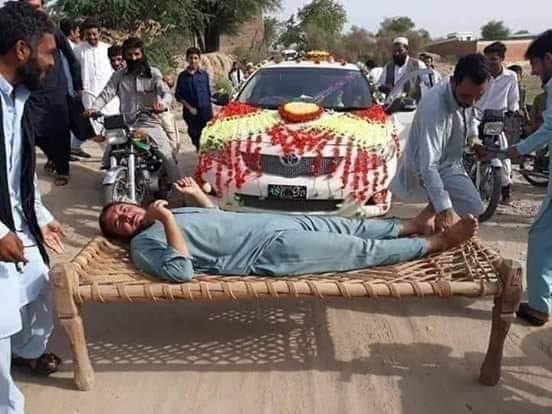 The innovative method he used to stop the baraat!
The situation, however, became funnier when this guy decided to completely halt the progress of his younger brother's baraat. He decided to put a "Chaar Paayi" in front of his brother's decorated car. We all have seen this type of protests before. Remember that Indian movie where a person lays down in front of a car? We all know what happens next. This guy took the motto of going over my dead body to a whole new level. He challenged the baraat to go over his dead body.
As you can see in the above picture the guy looks pissed to the core. It seems like he is convinced that this is the only way to get his wishes of getting married fulfilled. We hope that the car didn't just go around him. We also hope he was given the assurance that he would get married soon. Best of luck!