Racecourse Station House Officer (SHO) Inspector Mian Imran Abbas embraced martyrdom in a targeted attack by unidentified motorcyclists on Sunday afternoon.
On Sunday, the SHO along with his wife and two children was going to his residence in the Police Lines Headquarters in his car with tinted window glasses when two unidentified motorcycle riders opened fire on the SHO on the main road opposite the gymkhana.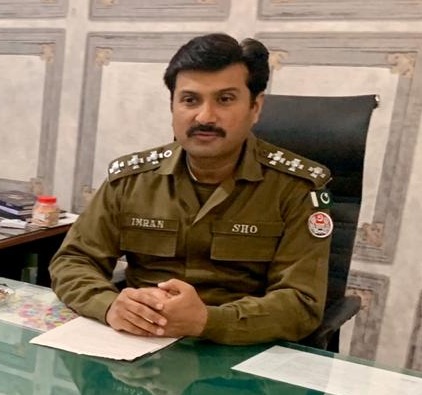 According to the initial police investigation, the motorcycle riders, who were probably chasing the car, pulled up on the right side of the vehicle. They fired one shot on the SHO who was in the driving seat.
"The gunshot proved fatal," a police spokesperson said. Immediately after the attack took place, the wife rushed her injured husband to a hospital. However, he embraced martyrdom before reaching the hospital.
"His family was safe and as per sources only one bullet was fired. It was pointed at his head but hit his neck," preliminary report said.
"Imagine for a second that you have 3 kids and one perfect family. On a Sunday, you go out with your kids and wife in a car, and on your way somebody shots fire at you. Their entire lives, the kids and wife would grieve the loss. Appreciate these families," a Twitter user wrote.
SHO Abbas' funeral prayers
According to the reports, the funeral prayers of the slain cop have been offered in Rawalpindi. Moreover, the interior minister, station commander, deputy commissioner, RPO, CPO Ahsan Younus, and a large number of police officials and citizens attended the funeral.
A floral wreath also laid on behalf of Chief of Army Staff General Qamar Javed Bajwa. Reportedly, they laid SHO Abbas to rest at the Army Graveyard, Race Course
Punjab Law Minister Mohammad Basharat Raja paid homage to the martyr. He said Inspector Imran Abbas was a dutiful officer. Additionally, he said that his services would always be remembered.
In addition to this, he made a call to the aggrieved family of Shaheed Imran Abbas, expressed his condolence and sympathy. He assured to bring the elements involved in the incident to the court of law. Moreover, promised to provide justice to the affected family.
It is pertinent to mention that the slain SHO's father Mian Mohammad Abbas also embraced martyrdom in an encounter with a gang of robbers in July 1990. He was associated with the police as a sub-inspector (SI) and posted to the RA Bazaar police station.
Read More: 7 Martyrdom Stories Of Young Pakistani Soldiers That Will Touch Your Heart
What do you think of this story? Let us know in the comments section below.