Police in Lahore resorted to baton-charge and arrest dozens of students in a bid to disperse them from outside the University of Central Punjab (UCP) on Tuesday, where they were peacefully protesting against the latter's decision to conduct the exams on-campus.
Students have been staging protests outside the campus for the last two days in favor of online exams. According to them, their classes were also held online as the educational institutions remained closed due to COVID-19 pandemic throughout the year.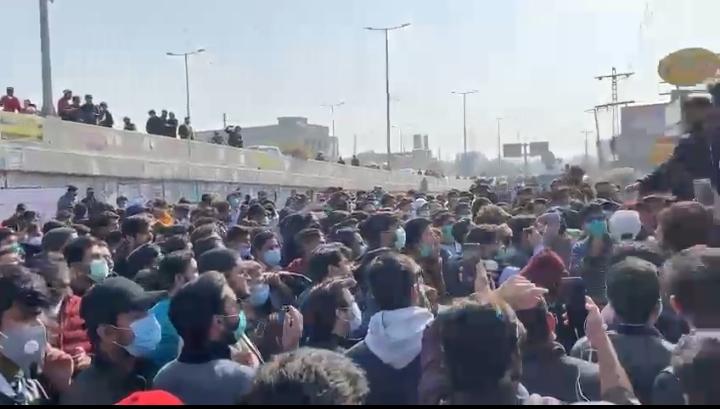 In addition to this, they claimed that despite failing to complete the syllabus of different courses. However, the university insisted on holding these exams. After a few hours of their protest, the police launched a crackdown against the students. They tried to disperse them from outside the campus at Johar Town area of the provincial capital.
Videos circulating on Twitter under the hashtag #StudentsWantOlineExams show the private guards of the university baton-charging, pelting stones, and whipping students, while the police officers stand at an arm's distance as silent spectators.
As per some student testimonies, a large number of students gathered outside the UCP campus. They raised slogans against the administration. Subsequently, the private guards of UCP attacked students.
In order to retaliate, the large crowd gathered and tried to break down the university's gate. The administration stated that the students were 'illegally' trying to enter the university's premises, and the guards tried to stop them from entering. Following the incident, the Punjab Police arrested UCP students and took them away in police vans.
StudentsWantOnlineExams trends on Twitter
Meanwhile, taking notice of the situation Federal Education Minister Shafqat Mahmood said he has asked the Higher Education Commission (HEC) to check out if the exams can be held online 'given special circumstances'.
In a follow-up tweet, the minister asked universities to ensure that they have all the required technical ability to hold online exams for all students before making any final decision.
It is pertinent to mention here that for the last several days, students have been protesting demanding online exams. The students hold placards and banners, gather outside the varsity campus, chant slogans, and demand their exams to be conducted online.
More so, this is not the first time the police tortured and arrested innocent students. Earlier this month, the students of the National University of Modern Languages (NUML) in Islamabad staged a protest against the issue. However, they too were tortured and arrested.
In a similar incident before, the police shamelessly arrested innocent students in Quetta for protesting against useless online classes. With minimum to almost no media coverage till now, these protests often go unnoticed.
What do you think of this story? Let us know in the comments section below.