YouTubers Sham Idrees and Queen Froggy called out a Canadian cafe chain Demetres for Islamophobia. They claim that service was refused to them owing to their religious beliefs. Meanwhile, the cafe denied the allegations, stating that the argument was over seating restrictions.
The couple posted videos on their Instagram accounts recounting the incident. The husband and wife posted videos on their respective Instagram accounts narrating details of the incident.
"We just had the worst experience of our lives," Idrees declared in his video. "The racist servers told us they will not serve 'people of your kind'. My wife and family members included hijabis."
"I am so disgusted. Go to Google Maps, click review and give 1 star [to Demetres] and write #Banislamophobia. Let's make sure it never happens to anyone again!" Queen Froggy wrote in her video post.
"We just got back from Demetres," she recounted in her video. "It's a dessert cafe in Ontario Canada. I took my kids, my family, and some of my hijabi friends. We just wanted to have some dessert and a night out. The servers at that location did not want to take our order. They asked us to leave the restaurant and said if we didn't leave the restaurant they would call the cops, which they did because we are Muslims and they didn't want to take our order."
The cafe denies the allegations:
Demetres also took to social media to issue a statement regarding the incident. "We believe there was a misunderstanding between employees and our guests regarding seating arrangements due to COVID-19 restrictions," they wrote. "The situation became escalated, and the guests were asked to leave."
Netizens accuse Idrees and his wife of lying about what actually happened, inclining toward the restaurant's version of the events.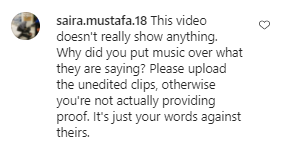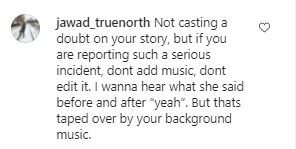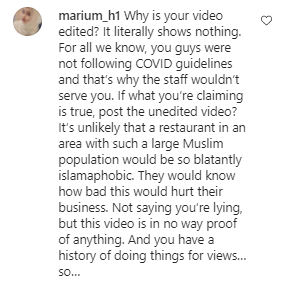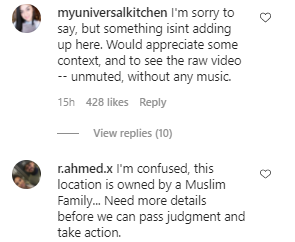 Kanwal Ahmed, the founder of the great Facebook group Soul Sisters Pakistan, said Idrees was disrespecting Canada's Muslims by fabricating a scenario in which his wife is discriminated against because of her hijab. "This undermines actual complaints of Islamophobia," she added.
Ahmed's post included testimony from other individuals alleging that Idrees and his group were barred from the restaurant for violating COVID-19 rules.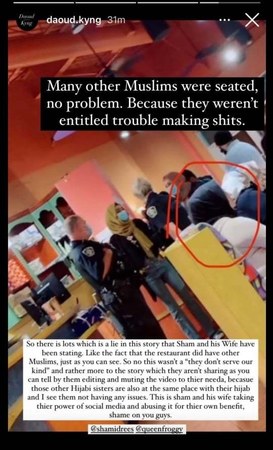 Sham Idrees responds to criticism
Nonetheless, people in the comments urged the YouTuber to show the entire confrontation instead of snippets.
A few years back, Idrees and Froggy had a major accident and suffered horrible injuries. While people trolled the couple, both shared the horrifying details of the accident and slammed the trolls.
What do you think of this story? Let us know in the comments section below.