Opposition members disrupted Friday's budget session by hefting desks and chanting slogans against Prime Minister Imran Khan, who steadily unveiled the Pakistan Tehreek-i-Insaf's (PTI) third budget. Meanwhile, the PTI leadership shamelessly misbehaved and laughed throughout the opposition protests.
The Pakistan Peoples Party (PPP) has split from the grand opposition alliance – Pakistan Democratic Movement (PDM). However, joined forces with the Pakistan Muslim League-Nawaz (PML-N) during Shaukat Tarin's speech – his first since joining the cabinet.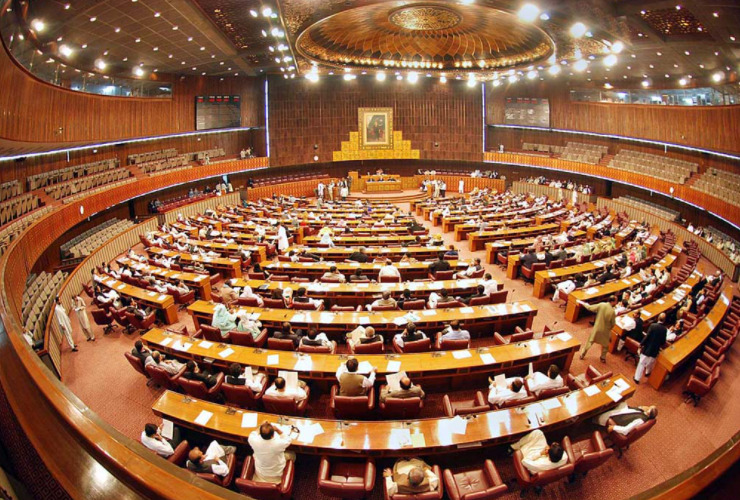 Shehbaz Sharif, leader of the opposition in the National Assembly and president of the PML-N, and Bilawal Bhutto-Zardari, chairman of the PPP, entered the house together following a meeting with each other.
Khan, who reached the National Assembly five minutes before the session began, remained in the house throughout the nearly two-hour budget speech. The opposition legislators were seen carrying placards inscribed with slogans. The slogans said, 'PTI ka mehngai budget' [PTI's inflated budget] and 'Mehngai budget na manzoor' [High-cost budget unacceptable].
In addition to this, they chanted 'Donkey Raja Ki Sarkar Nahi Chalegi' during the budget session of the parliament.
The opposition members banged their desks and shouted anti-government slogans throughout the speech. In response, some female PTI members went to the opposition side and shamelessly ripped off their placards. The fact that they went up to the opposition members, snatched their placards, tore them, and misbehaved is preposterous given that it is opposition's job to protest.
Not only did the PTI members misbehave with the opposition party but they also laughed and ridiculed them all the while they protested.
Take a look at PTI's shameless behavior
Leaders of the opposition came together to reject the government's stance of economic growth and development in today's budget session, saying they would join hands to give it a "tough time" over the federal budget for the fiscal year 2021-22. Bilawal Bhutto-Zardari and Shehbaz Sharif spoke with media representatives after their meeting.
Shehbaz blasted the government's narrative on the state of the economy, questioning how could the economy improve when "the poor [man] is dying, he can't get bread for a one-time meal, there is a wave of poverty and unemployment in the country." Bilawal similarly lashed out at the budget presentation and said it did not align with reality.
Earlier, a reporter asked Prime Minister Imran Khan if the budget will be people-friendly. "Everyone will be happy [with the budget]," he replied. PTI claims to have announced a pro-people, business-friendly, and growth-oriented budget for the fiscal year 2021-22. The budget session brings 'no new taxes' on salaried class, and sets minimum wages at Rs20,000.
What do you think of this story? Let us know in the comments section below.