In anticipation of the Punjab Assembly electing its chief minister today in line with the orders of the Lahore High Court (LHC), the Pakistan Tehreek-e-Insaf (PTI) lawmakers created a disruption inside the hall and attacked Deputy Speaker Dost Muhammad Mazari.
In an absurd turn of events, the PTI lawmakers caused a ruckus inside the assembly when they brought 'lotas' to the house and started chanting "lota, lota" (turncoats) as they lashed out at dissident PTI MPAs who parted ways with the party and decided to support the Opposition.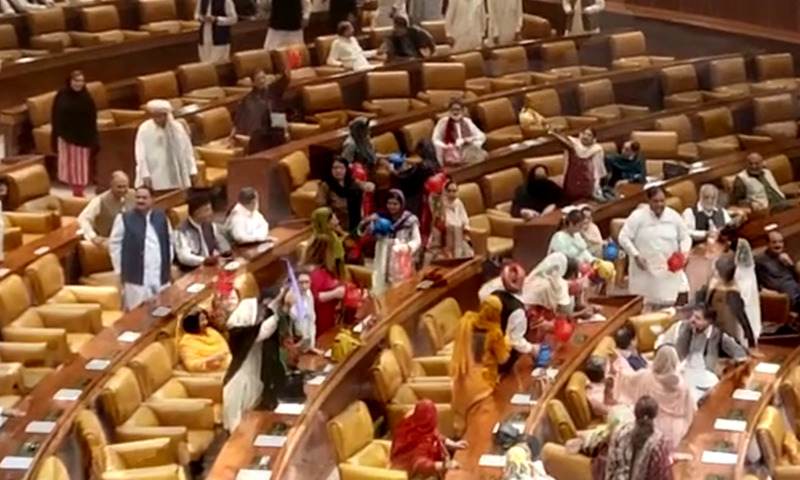 The session was scheduled to start at 11:30 am but got delayed due to the disorderly behavior of the PTI members. Chaos erupted inside the legislature as PTI and PML-N lawmakers came face to face. Slogans were chanted by both the parties, while PTI members threw lotas at the opposition benches.
When Deputy Speaker Mazari, who was supposed to chair today's session, entered the assembly, he was attacked by members of the treasury benches. They threw lotas at him and tried to circle him. Mazari was immediately shifted to his chamber by assembly guards.
To control the situation inside the house, Punjab SSP Operations along with a huge contingent of police officers entered the assembly in civil clothes but later exited the hall after protests from Elahi. Meanwhile, the Punjab chief secretary and IG have reached Mazari's chamber to chalk out a plan to resume the PA session.
Footage of the ruckus:
Elahi, who is inside the assembly, blamed the PML-N for bringing the police inside the legislature "for the first time since the creation of assemblies". "Who is the police to enter the assembly?" the PML-Q leader said. "We will make sure the inspector general of police (IGP) appears before us and he will be punished for a month."
Outside the assembly, Pakistan Muslim League Nawaz (PML-N) leader Ataullah Tarrar blamed Parvez Elahi and his "group of gangsters" for everything that happened inside the legislature.
"What happened today was a huge violation of the law and Constitution," he said. "Today, the deputy speaker was attacked. This is an incident of terrorism. I have heard Chaudhry Parvez Elahi wants to get one or two people murdered."
He added that Elahi had been encouraging the MPAs when they attacked the deputy speaker. Tarar called on the Lahore High Court to take suo motu notice of the incident and initiate action against the culprits. "We are here and won't move till midnight."
Another blood-curdling video also surfaced recently which showed a donkey covered with lotas around its neck being abused at a rally, with PTI supporters linking the animal to former PM Nawaz Sharif of PML-N.
Read More: Female MLAs Go Wild In Punjab Assembly & Fight With Bare Hands
What do you think of this story? Let us know in the comments section below.