One of the top 25 young, bright economists, acclaimed economic writer, and globally recognized financial expert, Atif Mian has been included in the 18-member of Economic Advisory Council (EAC) by Prime Minister of Pakistan Imran Khan. Atif R.Mian is the one whose name was listed in the quarterly publication of the IMF 'Finance and Development' among 25 economists who are shaping the way IMF thinks about the global economy. He is the first Pakistani-American who received this honor.
On his appointment as a member of EAC, many groups, religious political parties, and individuals objected because of his Ahmedi faith and demanded from the government for his dismissal. Yesterday, Fawad Chaudhry – Minister of Information talked to the media and cleared his party's stance on the appointment of Atif R.Mian. Talking to the media, Fawad said that,
"This is a man who the entire world is saying will receive a Nobel Peace Prize in the next five years. He has been appointed to the Economic Advisory Council, not the Council of Islamic Ideology or something else. Pakistan belongs as much to minorities as it does to the majority, I don't think anyone should have objections [to Mian's appointment], and those who do, they are basically extremists and we will not bow to extremists. Protecting minorities is our responsibility. It is the religious duty of each Muslim, not just the government, to protect minorities and respect those that they live with." 
Here's the video:
معاشی مشاورتی کونسل کے رُکن عاطف میاں کے معاملے پر وفاقی وزیر اطلاعات کا رد عمل#PTI@fawadchaudhry pic.twitter.com/MUn7xSK9nE

— PTI (@PTIofficial) September 4, 2018
A social media campaign against the economist started soon after his appointment, on the other hand, a large number of individuals supported Atif R.Mian by saying that religion should not factor into professional qualification.
Renowned Journalist Abbas Nasir Supported Atif's Appointment
Anybody objecting to Atif Mian's nomination to the economic advisory committee needs to have their head examined. He is an accomplished professional with impeccable credentials recognised internationally.

— Abbas Nasir (@abbasnasir59) September 2, 2018
According To Zarrar Khuhro, PM's Advisory Council Is Solid
Have to say the pm economic advisory council looks solid. Especially atif mian

— Zarrar Khuhro (@ZarrarKhuhro) September 1, 2018
Jibran Nasir Asks People To Support PTI For Making Amendments
Former PPP Leader and Deputy Speaker Shehla Raza divisive tweet on Atif Mian led an outrage on the social media which she deleted afterward.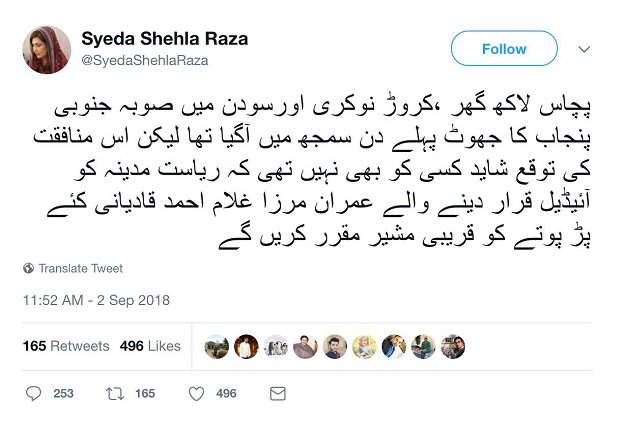 And Here Is What Orya Maqbool Jan Said Yesterday During A Talkshow
#AtifMian Here, @OryaMaqboolJan casually floats the idea of declaring Ahmadis as apostates in #Pakistan and subsequently killing them all. It is actually a viable option in his head.#AtifMian #AhmadiApartheid #Ahmedis pic.twitter.com/HpHYGV6ie1

— ataulhanan (@ataulhananat31) September 5, 2018
Earlier today, a call-to-attention notice had been submitted in Senate by opposition parties against Atif Mian's inclusion to the EAC. The party members of PML-N, Muttahida Majlis e Amal, and the Pakhtunkhwa Milli Awami had signed the notice but PPP refused to do so because they don't want to be a part of witch-hunt based on someone's faith.