Hundreds of students of different public and private educational institutions on Saturday occupied Faizabad Interchange to demand cancellations of physical annual examinations. The demonstration suspended the traffic movement for around two hours. Moreover, police arrest some students for resorting to violence.
Massive traffic rush could be seen in Rawalpindi and Islamabad due to protest demonstrations. It suspended all traffic coming from the Expressway, highway, and Murree Road.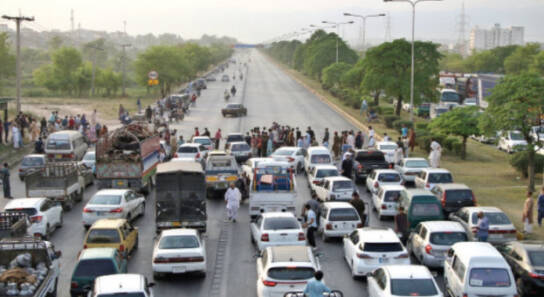 According to the officials of the capital administration and police, the SSC and HSC students from Rawalpindi and Islamabad in groups started gathering at Faizabad in the afternoon. Shortly, their number increased to 600 to 700 and the students blocked Islamabad Expressway.
The protesters demanded the government to revoke its decision of physical presence for the annual board exams. The students said their educational institutes remained closed due to COVID-19. During the pandemic, they added, online classes were conducted only for a short period. Under such a situation, they demanded final online exams.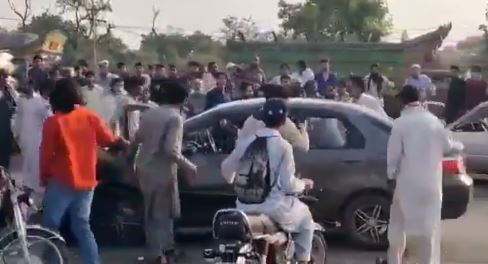 In addition to this, the protestors also damaged vehicles and set trees on fire. These protesters started damaging private vehicles and also beat and injured the drivers of these vehicles. In response, the police resorted to baton charge to disperse the students and began shelling as a protest staged by matric and intermediate students at Faizabad interchange turned violent.
However, the protesters retaliated and pelted the police with stones. They chanted slogans against the government, the federal minister for education, and other officers of the education department.
A video has come to the surface in which the protestors can be seen damaging a passerby's car.
Take a look at it!
They reportedly damaged many other private vehicles and also beat and injured the drivers of these vehicles. Later, the police arrested the students. Moreover, the police seized over three hundred motorcycles of the students of different police stations.
The other side of the story
On the other hand, some of the protestors claim that the driver of this car had a gun with him and threatened to shoot at the students.
Taking to Twitter, the current Deputy Commissioner Islamabad Muhammad Hamza Shafqaat updated that First Information Report (FIR) has been registered against the students.
Previously, students of the National University of Modern Languages (NUML) staged a protest against the university's administration, demanding the exams to be held online. Police reportedly arrested and tortured some students as they protested against the administration for taking on-campus exams on Monday.
In a similar incident before, the police shamelessly arrested innocent students in Quetta for protesting against useless online classes.
What do you think of this story? Let us know in the comments section below.