Islamabad was looking like a war zone on Wednesday when the government employees clashed with police during their protest. All they were demanding was a pay rise but the protest turned violent. The capital saw tear gas shelling amid protests by hundreds of government employees. A reporter was also attacked by the protesters with stones in Islamabad.
As per reports, the protesters also tried to enter the restricted Red Zone where the government and military buildings are located. Protests were held at different points of the city, including Constitution Avenue, outside Secretariat Block, and Cabinet Block. Meanwhile, the demonstrators also broke the main entrance door of the Cabinet Block.
However, the situation is new today. After successful talks with the protesters, the government has approved a 25% increase in the salaries of the protesting employees on an "ad-hoc" basis.
Minister for Defense Pervez Khattak said during a press talk in Islamabad on Thursday that notification of Adhoc allowance will be issued today. He said this allowance will continue till the recommendations of the Pay and Pension Commission.
Interior Minister Sheikh Rashid announced the release of all the detained employees and withdrawal of FIRs against them.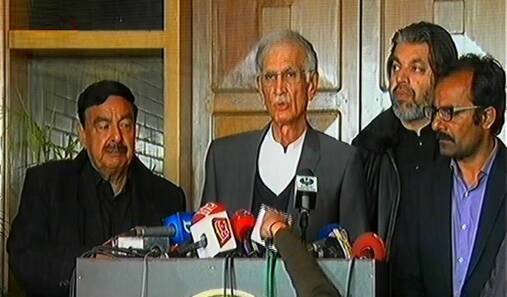 Protesters attacked female reporter covering Islamabad protest
A heavy contingent of police tear-gassed hundreds of government employees as they attempted to approach the Parliament House to stage a sit-in. Dozens of protestors, along with their leaders, were also arrested and injured in the chaos. However, it also seems the protesters were also in an attack mode.
A shocking video is circulating on social media showing a GNN News reporter being attacked by the protesters in Islamabad with stones. While Asia Kousar was going live from Islamabad, the protesters hurled stones at her. One of the stones hit on the head and injured the reporter.
Journalists in Pakistan work hard to tell the story as it happens. However, they do it at times risking their own lives and properties. Pakistan is one of the countries in the world where a journalist doesn't feel him or herself safe for varying reasons. Meanwhile, even at the government level, not much support or protection is given to them.
Journalist Asia Kousar was covering the protesters and their cause. However, it is shameful that they attacked her while she was doing her job.
Attacks and threats to journalists are becoming common in Pakistan. Last year, criminal Ibsham Zahid gave an open threat to a reporter on camera while being handcuffed. Remember when a female reporter encountered a man who said women wear skirts, and that's why they get raped? Such is the life of a reporter!
What do you think of this story? Let us know in the comments section below.