The arch rivals of the subcontinent have had their fair share of political divide; under the limelight these days, however, is the cricket friction between the two countries. With the Asia Cup match fresh in the minds of the spectators, and the recent drama that has unfolded revolving around the security concerns, venue changes and Afridi's statements, our cricket emotions are all over the place.
Amidst the hostility and the tension, though, there has sprung up an initiative that seems to be spreading the message of peace and harmony and is demonstrating that the reasons to unite us are greater, both in number and strength, than the reasons that divide us.
Facebook recently launched a new feature that allows users to change their profile pictures in support of their respective teams to mark the beginning of the ICC T20 World Cup.
The #ProfileforPeace campaign has Pakistani's changing their profile pictures in support of India, while Indians are changing their profile pictures to demonstrate solidarity with the Pakistani cricket team.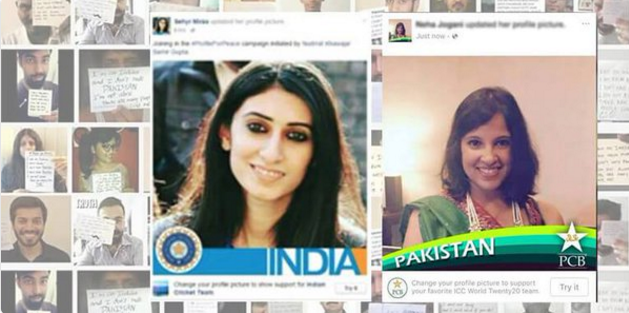 Source: twitter.com
The initiative has garnered immense support as it seems to be advocating peaceful coexistence and tolerance among the two countries, as well as propagating their shared love for cricket as a uniting factor, rather than a dividing one.

Source: twitter.com
But while it may seem to instill that sort of a mindset in the masses, the initiative does earn India and Modi bonus points with regards to their partnership with Facebook under the banner of "Digital India", with the aim of achieving digital literacy across the country.

Source: twitter.com
The Digital India pictures had flooded the internet back then, and India seems to be keeping this legacy of filters to achieve goodwill globally, alive.
It may be kept in mind that many back home in India had been upset over this association, but were assured by Modi that 'neutrality' would be maintained. And the masses are loving this gesture on part of Facebook, so any doubts that they might have had stand nullified now. Take a look: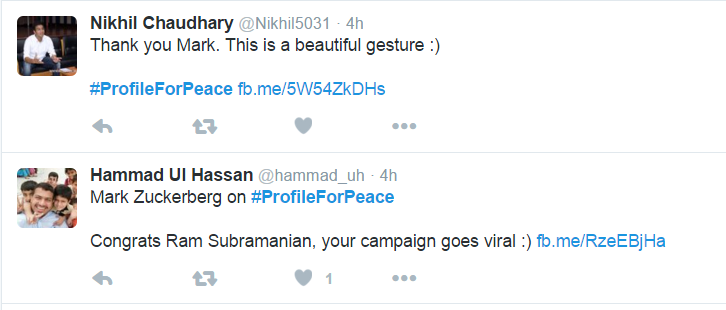 Source: twitter.com
So not only does this benefit the Digital India agenda with respect to Facebook and Zuckerberg, but also helps its case with the masses.
Our central issue thus remains; what good will social media revolution achieve unless its backed by substantial practical implementation? Especially if there's a potential hidden agenda that any social media campaign might be serving.