In a rather hysterically funny video making rounds on social media, a wife leaned in to kiss her off guard husband, turned out, her husband who is a professor was taking a zoom class at the moment. You can only imagine what came next!
Video teleconferencing platforms such as Zoom have become essential to staying connected in the wake of the COVID-19 crisis. However, as the platform's popularity rises, it has come with a fair share of embarrassing moments and hilarious blunders.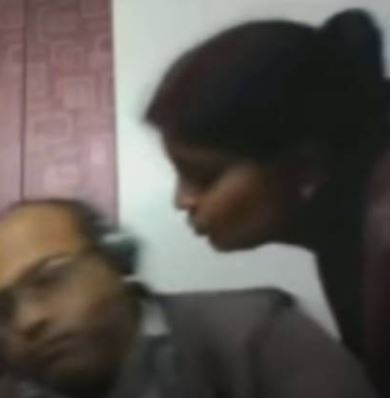 A similar blunder occurred when a wife who came into the room to pick some stuff up, perhaps in a well-intentioned moment of love. The wife tried to plant a kiss on her husband while the professor conducted a class on Zoom.
In shock, and with rather impressive reflexes, the man in the video jerkily pulls his face away, following it up with a disbelieving – "What nonsense you are doing here?" The look of embarrassed self-consciousness can be seen all over the professor's face.
With the husband's tragic position and the wife's innocent failed attempt at expressing some love, the video has garnered a lot of attention owing to its hilarity. While the origins or date of the video are not known yet, there could not have been a better time than around Valentine's Day for it to go viral.
Check out the video here
Well, well, Valentines Day is just around the corner and love is surely in the air…
Another video on the dynamic married Indian couple recently went viral. A Delhi-based senior doctor did not take his wife along to get vaccinated against COVID-19. He only got himself vaccinated. Unfortunately, he took his wife's phone call while addressing his live stream, Poor doc ended up getting roasted by her while the viewers heard everything. LOL!
Zoom exploded in popularity since early this year as people turn to video calling software for school lessons, formal meetings, and other events. It has also become the new normal in our courts with hearings now being conducted online.
Earlier this week, another embarrassing moment occurred during the virtual proceedings of the 394th Judicial District Court in Texas. When a judge opened up the virtual proceedings on Zoom, he was not expecting to see two lawyers and a kitten.
The live stream of the virtual court proceeding took an 'ameowzing' [amusing] turn when a lawyer appeared on screen as a computer-filter-generated cat.
What do you think of this story? Let us know in the comments section below.