The YouTube and Twitter accounts of the U.S. Military Central Command were hacked on Monday by unknown hackers. Pro-ISIS messages were posted on the page before the accounts were taken down for a number of hours.
The U.S. Central Command informed that the social media sites were 'compromised' for around 30 minutes. The said websites reside on commercial and non-defense department servers and both of them were taken down temporarily while the authorities looked further into the incident. CENTCOM told that the military networks of CENTCOM were not compromised and there was not any operational impact on U.S. Central Command. In a statement CENTCOM said that it will restore services to its YouTube and Twitter accounts as soon as possible. They viewed this as a case of 'Cybervandalism'.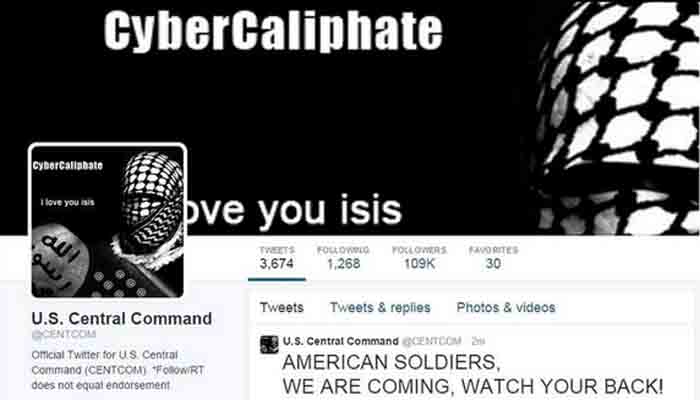 Banners and profile images of the Twitter account of CENTCOM was replaced by the images from the 'CyberCaliphate', one of them read: 'I love you ISIS'. Tweets claiming that the hackers have broken into the computers of U.S. military and have extracted the official's personal information were also posted on the CENTCOM Twitter account. Twitter said that it was helping the Pentagon resolve an issue related to account security, however, Twitter doesn't comment on individual accounts.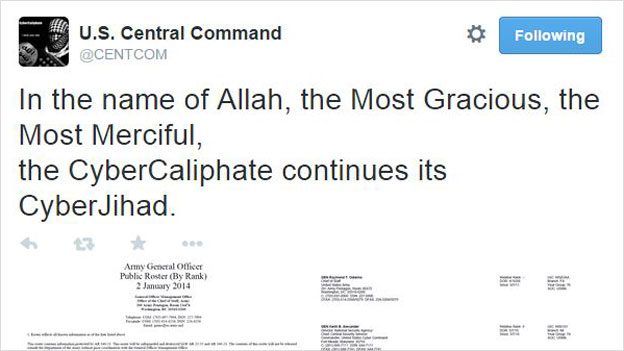 None of the information posted on the account was classified, in-fact, some of it was outdated, the defense officials reported. The unknown hackers posted slides that purported to exhibit plans involving North Korea and China are not military and a few of them were produced by the Massachusetts Institute of Technology, the authorities informed. One of the defense officials remarked that this is not a security threat; however it is clearly embarrassing for them. The hack came on the same afternoon President Barack Obama addressed the Federal Trade Commission and talked about the importance of corporate cyber security and safeguarding the consumer data.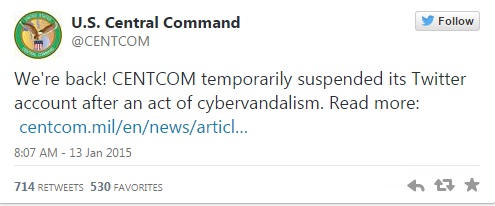 A few minutes after 10 p.m. ET, the Twitter account of U.S. Central Command tweeted, "We're back!" and provided the link to a press release on the incident.