There is no doubt about the amount talent hidden in Pakistan, many come to spotlight whereas many go unnoticed. This is a story a young boy who would have gone unnoticed too if it wasn't for Rj Umme Kalsoom who tweeted his portrait of Morgan Freeman that went viral and left everyone speechless. This young boy's name is Jawad Ahmed Baloch and is a resident of Karachi, who loves portrait and face painting and is master in pencil art work.
He drew this awesome portrait of Morgan Freeman
This incredible artist from Lyari has made this portrait of Morgan Freeman! Let's RT this to support his talent! pic.twitter.com/RUNzPr0RcG

— Umme Kulsoom (@rj_kulsoom) June 10, 2017
And boy, it shook the internet. Just a 17 year old from the streets of Lyari so perfect in his work that it looks like it has been made by some professional and experienced artist.
More about the young boy
Jawad works at a painting shop near Shah Bhittai Hall Moosa lane Lyari. He has 5 years of experience in art work and is taught by his teachers Prem and Jan Muhammad. Jawad completed his matriculation from GBSS. His passion seems to be artwork and drawing portrait seeing how awesome his work is.
Morgan Freeman must be proud
Do you see how perfect this looks?
Just look at the details and how everything about it is so perfect. This doesn't look like it has been drawn by an amateur 17 year old but by a very experienced artist. How many of you could even draw a straight line when you were his age?
He has also drawn Nana Patekar!
Even this is as perfect as Morgan Freeman's. This boy has some serious talent that should not be neglected.
Nana's reaction
Here is another portrait made by Jawad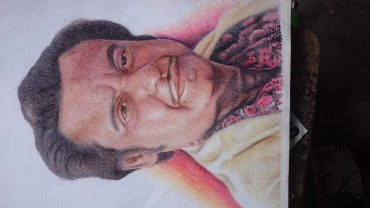 So as you can see that this is something very special what this boy has. This little guy deserves all the recognition he can for his talent and must not go neglected. If he can be this good at such a young age, we can only imagine what he can grow up to be.