Pakistani politicians might not know how to handle the country but they sure know where to spend the big bucks they make. Luxury cars. The more expensive the cars are.. the better it makes them feel. However, we just have a very minor feeling that somewhere along the way, we paid for these as well… (yes we know it hurts..)
Here are some of Pakistan's top politicos and their expensive cars
1. Former PPP and MQM member Sardar Nadir Gabol with his trucks. Also spotted next to a Stingray (said to be owned by his family).
2. Former CM Baluchistan, Nawab Aslam Raisani spotted in an electric blue Range Rover Sports Supercharged. The second picture shows him driving a three-wheeler on the streets of Islamabad
3. CM Punjab Shahbaz Sharif spotted in Lahore without protocol, riding shotgun in his Mercedes G-Class
4. It is rumored that Ex-President Pakistan Asif Ali Zardari owns this Rolls Royce Ghost – obviously not in Pakistan, though!
5. It is said that PML-N's Ishaq Dar gifted this Lamborghini Aventador LP 700-4 to his son – however, he is a businessman as well
6. Ex-Prime Minister Pakistan, Nawaz Sharif spotted next to a sports car
7. Chaudhry Nisar, Ex-Interior Minister Of Pakistan with the Prime Minister in his Mercedes
8. Pakistan Tehreek-i-Insaaf's Imran Khan spotted in his Landcruiser, with ex-wife Reham Khan – it is said Khan also owns a Range Rover and a Mercedes G-class
Read Also: Pakistani Politicians Were Seen Enjoying Snowfall In Murree
9. Pakistan Peoples Party's  Bilawal Bhutto Zardari spotted leaving his house in Nowdero in a white Toyota SUV
10. Ex-President Parvez Musharraf is said to own these Landcruisers in several different colors
11. Faisal Vawda, the shining star of PTI, has a vast range of cars and bikes which he loves to flaunt! The Vawda Group of Companies!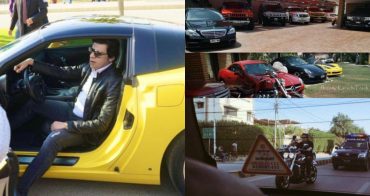 Yes, we know your heart is kind of burning right now, but it's okay… Khuda ke paas paidal hi jaana hai. 🙂