In a devastating turn of events, the motorway police officer who became victim to hit and run by an overspeeding car near Peshawar toll plaza after he signaled the driver to pull over, left the world on Tuesday.
On Thursday, CCTV footage was released on the Internet in which the driver was asked by the motorway police officer to stop his car. However, in an attempt to flee and avoid challan, the man ran it over the policeman hitting him near Peshawar.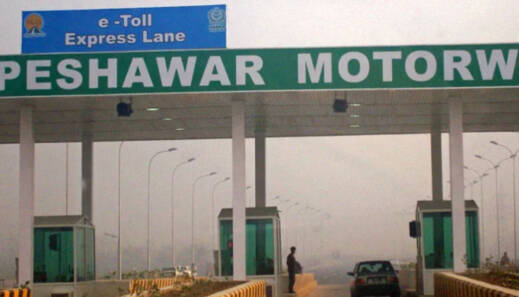 The victim identified as the National Highways & Motorway Police (NH&MP) officer Syed Adeel Ali. According to a spokesperson, the police also asked the driver to stop his car near Mardan but he ran away. Sources revealed that the vehicle was going from Islamabad to Peshawar.
Here is the CCTV footage
WARNING: Some viewers may find the content of this video disturbing. Viewer discretion is advised.
Chamkani police later arrested the accused driver who is a resident of Islamabad. He claimed the accident took place due to brake failure. According to the information received from the Motorway Police Control, the vehicle was traveling at a speed of 160 km per hour. The Peshawar Interchange was informed where the accident took place while trying to stop.
Meanwhile, officer Ali was shifted to LRH hospital and remained in critical condition until yesterday. Taking to Twitter, the news of his death was announced.
"With profound grief, it is announced that the NHMP officer Mr. Ali has embraced martyrdom today in the hospital. He was in a coma since the day he got hit by an overspeeding car…"
Recently, a video of the deceased officer has emerged wherein he could be seen distributing iftar on the motorway a few days prior to the tragic accident.
Take a look at it!
"A few days before the accident, Syed Adeel Ali Bhai was distributing Iftar on the motorway. May Allah grant him a high position in Paradise. Amen," the tweet read.
May his soul rest in peace.
From time to time, such incidents emerged on social media creating a chaotic prospect among the awaam. In a similar incident last year, a man in Karachi's Gulberg misbehave with on-duty traffic police officials. The police officers tried to his vehicle over violation of traffic rules.
Instead of stopping his vehicle, the man tried to escape by running down the traffic police officials. One officer even tried to stop him by taking out his car keys. The residents of the area were able to catch the man. Fortunately, none of the traffic police officials got an injury during the incident.
What do you think of this story? Let us know in the comments section below.